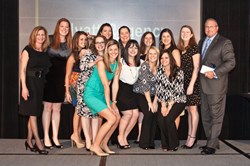 Greenville, South Carolina (PRWEB) February 14, 2014
The Hyatt Greenville Sales Team represents the franchise's top sales performers for the year. They have demonstrated collaborative team results and are exceptional achievers which distinguish them as role models within the Hyatt Corporation and the hospitality industry as a whole.
Hyatt Regency Greenville emerged from a recent hotel transformation and achieved RevPAR growth of 24% over the prior year. The sales team of eight, supported by seven event managers and staff are led by Ryan Herron, Director of Sales and Marketing. This talented group each achieved over 100% of their individual quotas and as a team surpassed their team revenue goal by 28%.
Ryan says, "In all my years in the hospitality industry, I've never had the opportunity to be a leader for such an amazing group of associates. Their dedication and determination to be successful cannot be matched."
In addition to the time and commitment dedicated to their jobs, the team is also highly involved in the Greenville community and enjoys working together on projects like Habitat for Humanity, Homes of Hope, the Mission backpack program at Brook Glenn Elementary, and many more.
The Hyatt Greenville Sales Team would like to thank all of its customers and employees for being an integral part of their success.
###
About JHM Hotels:
JHM Hotels, a premier lodging company, based in Greenville SC, has developed, acquired, owned, and operated hotels throughout the United States for 40 years. The company currently owns and operates 41 hotels with over 7300 guestrooms, located in the United States and India, operating under such well-known brands as Hyatt, Marriott, Hilton and Starwood.