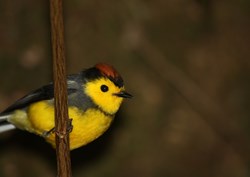 "We're not bird experts, but we love capturing them – in photography only," Tony Castro says with a smile.
(PRWEB) February 14, 2014
A colorful tropical warbler, photographed in Costa Rica, won the USDA sponsored Cutest Bird Photo Contest for January. Tony Castro of Oak Park, IL submitted the photo, which took the top slot in the category of "Cutest Bird."
"The bird is collared redstart from the warbler family," says Castro. "They are friendly birds, and this one let me come right up to him." The photo is featured on the Biosecurity For Birds website http://healthybirds.aphis.usda.gov until the middle of March when the February winners will go up.
Castro, a retired neuroscientist, and his wife, Jetta, a former accountant, are bird watching hobbyists who travel frequently enjoying their favorite pastime. "We're not bird experts, but we love capturing them – in photography only," he says with a smile.
The couple maintains a website, http://www.seeworthybirds.com, which boasts photographs of more than 1,100 bird species from North, South and Central America and Europe.
"Bird watching allows me to indulge two passions, birds and photography," says Castro. "The hobby also gives us the opportunity to meet wonderful people who share this common interest."
Although he and his wife visit many parts of the world to see different species – they recently travelled to the Amazon – "birders can view fascinating birds in their backyard, in the city dump, or the local park," he notes.
Castro learned about the contest by reviewing a list of bird photo competitions at the Audubon Society website – a bird watcher's favorite. While he noticed the Biosecurity for Birds site has an emphasis on backyard poultry owners, "all bird lovers have a responsibility to keep the birds and their environment healthy," he maintained.
He cautions his fellow hobbyists to be careful around nesting birds. "You don't want to scare or stress the mother." He also suggests that birders stay a reasonable distance away from the birds that they are watching or photographing.
The Cutest Bird Photo Contest began in December. At the end of each month, the winning photos will be posted on the Biosecurity For Birds website. The winners will be considered for inclusion on the 2014 Biosecurity For Birds Calendar. For an entry form, contest rules and more information visit https://web01.aphis.usda.gov/biobird_contest.nsf/contest_entry? OpenForm
The Biosecurity For Birds program, begun in 2004, is designed to educate backyard poultry owners and bird enthusiasts about highly contagious poultry diseases and other threats to birds. The program helps inform bird lovers how to prevent disease and tells them what to do if they suspect their birds might be ill.
-30-
Media representatives may contact Joelle Hayden at joelle.r.hayden(at)aphis(dot)usda(dot)gov (301) 851-4040 or Pam Goldstein at pgoldstein(at)diversitymc(dot)com 973-377-0300, Ext. 14.