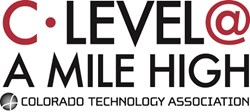 I have participated for several years as a CIO and wouldn't miss it. I hope to see you there. - Robert Meilen, VP and CIO, Hunter Douglas
Denver, CO (PRWEB) February 14, 2014
As a leading IT solution provider in Colorado, Zunesis is thrilled to be a Title Sponsor for the second year in a row at Colorado Technology Association's (CTA) largest fundraiser of the year, C-Level @ Mile High. This one-of-a-kind event brings together over 1,200 of Denver's technology professionals and allows them to build relationships both personally and professionally.
More than 90 technology executives, bearing the elevated title of "celebrity," will be in attendance representing over 80 companies – and all of them have money to spend. At C-Level, they have the chance to meet IT solution providers who can provide solutions to their problems and fulfill their project requirements.
Attendees will spend the day meeting these celebrities, learning about their upcoming projects, and bidding on a meeting with the celebrity(ies) whose projects line up with their own business specialties. This year, there will be over $4.5 billion in potential business available for attendees offering the best solutions to C-Level celebrities.
Past attendees and celebrities alike swear by the value of this event as a way to meet and interact with peers, grow their businesses, develop partnerships, and support a worthy cause that is based right in their backyard.
"[C-level] is a great place to get to know the technology community in Colorado. There are a lot of companies out there, small to large, and this is a great place for those companies to get on my radar and tell their story. C-Level is a fantastic event as it allows me to give of my time, raise funds for a worthy organization and a worthy cause, and because it allows me to network and interact with my peers." - James Gaulke, VP Information Technology, PDC Energy.
Zunesis is thankful to the CTA and the work that they do in promoting the technology industry in this state. We are delighted to sponsor this event and proud to be a CTA member.