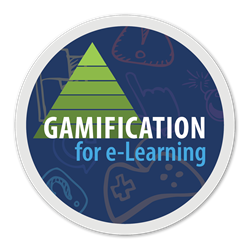 Minneapolis, MN (PRWEB) February 17, 2014
The buzzword of the moment is "gamification". What does this mean for instructional designers? Is it possible to blend tried and true theories of instructional design while meeting the needs of your learner population and stakeholders who are begging for games? Does gamification of e-learning even make sense for your organization or the needs of your learners?
Dr. Michael Allen, CEO, Allen Interactions, intended the world of e-learning to be filled with simulations, activities, interactions, and games back when he created Authorware. Unfortunately, it's now more than 25 years later and it's still an uphill battle to convince stakeholders that people learn by doing with risk and consequence.
On Wednesday, February 26th, 1-3 pm Central, Angel Green, senior instructional strategist, Allen Interactions, is hosting a training webinar to help instructional designers incorporate gaming into their learning projects by aligning gaming elements to those tried and true, classic ID theories.
Angel will reveal Allen Interactions' Taxonomy Alignment for Gaming (TAG), a tool to help guide instructional designers in their quest to incorporate gamification into their learning designs. Grounded in learning theory, this tool aligns types of games to the behavioral change an organization is looking to achieve. Also, in this two-hour event, see how Allen Interactions' Seven Magic Keys, CCAF-based Design (Context, Challenge, Activity, Feedback), and instructional interactivity compare to game theory. Learn how to avoid gaming just for the sake of gaming, and truly align gaming to your instructional needs!
Webinar Objectives:

Discuss what gamification means for instructional designers, organizations, and learners
Introduce Allen Interactions' Taxonomy Alignment for Gaming (TAG)
Explore how the Taxonomy Alignment for Gaming (TAG) aligns types of games to organizational behavior change needs
Show how Allen Interactions' CCAF-based Design Model compares to game theory
Get Exclusive Access to the TAG Tool!
For participating in this webinar, you will receive exclusive download access to Allen Interactions' TAG tool for use in your own instructional design projects.
About Angel Green
Angel Green is a senior instructional strategist for Allen Interactions and is responsible for providing consultation and instructional design expertise to clients, to build engaging, interactive learning experiences. Angel has worked for organizations such as IBM, MetLife, and PricewaterhouseCoopers, and holds both MS and BS degrees from Florida State University. An accomplished speaker, Angel has held positions as an adjunct instructor of public speaking and is past president of a Toastmasters International chapter.
About Allen Interactions
Allen Interactions is an internationally-acclaimed company focused on improving performance through powerful learning experiences. For 20 years, Allen Interactions has designed and devleoped cusotm e-learning and blended learning solutions that address the widley varied performance goals of the world's leading organizations. With a wealth of experience and a track record of success in instructional design, technology, creativity, process, and project management, Allen Interactions consistently achieves positive business impact. For more information visit: http://www.alleninteractions.com.
In 2009, the company established Allen Learning Technologies to create a revolutionary, web-based authoring and publishing system, ZebraZapps, which empowers serious authors to create, publish, collaborate, and share powerful learning experiences—all via a professional grade, visual editor. For more information visit: http://www.zebrazapps.info.