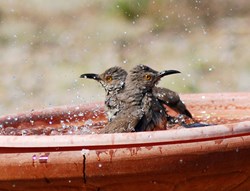 "These two birds were regular visitors to our front yard birdbath," says O'Dean. "We enjoyed sitting on our porch, watching them enjoy the water on a hot day."
(PRWEB) February 14, 2014
A duo of curved bill thrashers, nicknamed Splish and Splash, won the USDA sponsored Cutest Bird Photo Contest for January. Bob O'Dean, formerly of Santa Fe, NM, submitted the photo of the frolicking birds that won in the category of "Cutest Bird Family."
"These two birds were regular visitors to our front yard birdbath," says O'Dean. "We enjoyed sitting on our porch, watching them enjoy the water on a hot day." The photo is featured on the Biosecurity For Birds website http://healthybirds.aphis.usda.gov until the middle of March when the February winners will go up.
The couple recently retired. O'Dean had a career in banking and his wife, Deborah was a school counselor. They sold their home and bought a luxurious recreational vehicle to travel and indulge their shared love of bird watching, and his photography hobby. "We used to wait for the birds to come to us," O'Dean says. "Now we go out and find them."
He and his wife cross the country from coast to coast at a leisurely pace searching out different bird species. "We go out every morning to various bird watching areas of interest," he says. "It's a great hobby that grew on us over the years."
Currently in Florida, the couple plan to spend the rest of the winter in Tucson, AZ. "Home is where we park," O'Dean notes, adding with a laugh, "We decided on 'adventure before dementia'."
He learned about the USDA competition by searching for bird photography contests online. Pointing out that the Biosecurity For Birds website has an emphasis on backyard poultry owners, he believes that all bird lovers should know how to keep the birds and their environment healthy.
The Cutest Bird Photo Contest began in December 2013 At the end of each month, the winning photos will be posted on the Biosecurity For Birds website. The winners will be considered for inclusion on the 2014 Biosecurity For Birds Calendar. For an entry form, contest rules and more information visit https://web01.aphis.usda.gov/biobird_contest.nsf/contest_entry?OpenForm.
The Biosecurity For Birds program, begun in 2004, is designed to educate backyard poultry owners and bird enthusiasts about highly contagious poultry diseases and other threats to birds. The program helps inform bird lovers how to prevent disease and tells them what to do if they suspect their birds might be ill.
-30-
Media representatives may contact Joelle Hayden at joelle.r.hayden(at)aphis(dot)usda.gov (301) 851-4040 or Pam Goldstein at pgoldstein(at)diversitymc(dot)com 973-377-0300, Ext. 14.