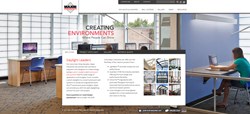 Wausau, WI (PRWEB) February 20, 2014
Major Industries recently updated its website - http://www.majorskylights.com - with a clean new look and easier access to product information.
While the new site provides many of the same benefits as before - with a large image gallery and access to a large amount of product data - it's now in a refined format that includes a live chat function to assist with customer questions and details and testing information in each product section for fewer clicks and easier access.
"While we had positive feedback on our old site," adds Mark Mitchell, Marketing Manager for Major Industries, "there were some concerns that our growing product line was making it somewhat difficult to navigate. We hope that this re-design will allow users to quickly find the information they need, and more easily see the benefits of Major's wide range of daylighting systems."
Visit http://www.majorskylights.com to check out the site, or call 888-759-2678 for additional product details.