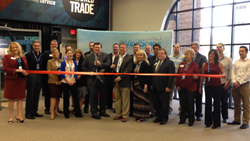 'Skyline is in business to help our clients succeed,' says Bill Dierberger, president, Skyline Exhibits.
Phoenix, AZ (PRWEB) February 27, 2014
Skyline Southwest celebrated the grand opening of its Phoenix showroom today with a networking event that featured free seminars on trade-show marketing strategies and a showcase of the latest in Skyline® portable and modular exhibits, including the world's first inflatable exhibit system.
Skyline Southwest, the exclusive Skyline dealer for Arizona and New Mexico, moved to a larger, more visible location – 6,000 square feet at 4545 E. Broadway Road in the Cotton Center office park – in early January.
"We're excited to be in the heart of the Phoenix metroplex," says David Byram, managing director of the corporate-owned office. "The central location provides easy access for the entire valley, and having a storefront at the Broadway curve gives us exposure to a lot of traffic."
Ambassadors from the Phoenix and Scottsdale Chambers of Commerce officiated at today's ribbon-cutting ceremony, attended by executives from Minnesota-based Skyline Exhibits.
"Skyline is in business to help our clients succeed," says Bill Dierberger, president, Skyline Exhibits. "We live by our motto: Helping the World Trade. Trust that when you partner with Skyline, our single goal is to help you trade."
For example, Skyline dealers offer exhibitor education to help trade-show marketers and event planners stay current with exhibiting trends and best practices. Two seminars today provided advice on setting measurable objectives, selecting the right shows and spaces, promoting participation at trade shows and events, staffing shows, and other ways to increase return on investment.
The showroom features an ever-changing collection of about a dozen exhibits, ranging from banner stands, tabletop displays and portable displays to modular inline exhibits and large island exhibits.
Skyline's revolutionary air-powered WindScape® exhibit system has fascinated exhibitors since launching in July 2013. Thanks to inflatable technology, WindScape® exhibits inflate and deflate in minutes. Exhibit structures in 46 standard shapes and sizes include backwalls, hanging structures, 16-foot-tall towers and even an inflatable conference room.
"This is a game-changing exhibit system," Byram says. "Lightweight and easy to use, it saves time and drastically reduces operating costs for shipping, installation, dismantling and storage. A lot of people buy it just because it's so easy to set up and tear down."
Made of durable, lightweight materials, WindScape® combines an inner air tube with a fabric frame covered by a wrinkle-free fabric graphic that can be changed to promote a different product or appeal to a different market.
Byram spent 13 years with the Skyline dealership in Nashville before relocating to Phoenix in mid-2013 to lead the local office.
"We're thrilled to have David Byram lead and expand our team in Phoenix," Dierberger says. "David has a long track record as a successful Skyline exhibiting consultant, creating great trade show marketing for hundreds of clients over the years. His high level of integrity and customer service makes him the perfect choice to lead our team."
Katherine Stuart, sales & design consultant, also joined Skyline Southwest in 2013 after three years with the Skyline dealer in Spokane, Wash. Skyline Southwest collaborates with exhibit designers, project managers and production staff at Skyline's International Design Center in Minnesota to provide brand, marketing and design solutions.
About Skyline:
Skyline Exhibits is North America's leading brand of exhibit systems. Known for high-quality products and services, cost-saving portability, innovative functionality, creative design and exhibitor education, Skyline has nearly 100 Design Centers in North America and representation in 30 countries. The company manufactures a broad range of products for trade shows and events – from banner stands and pop-up displays to large custom modular exhibits. With over 20 integrated exhibit systems, state-of-the-art production of large-format graphics and options for exhibit rental and services, Skyline provides exhibit solutions for virtually any size or budget.