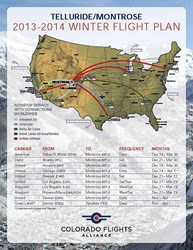 Telluride, Colorado (PRWEB) February 15, 2014
Flying into Southwest Colorado just got whole lot easier thanks to the 2013-2014 Winter Flight Plan. Five air carriers from eight major cities are now offering direct flights into the Montrose Regional Airport (MTJ) just 65 miles away from Telluride. Telluride Alpine Lodging, the area's longest running property management company, recently launched some very affordable lodging specials to entice last minute vacation planners into visiting the world renowned ski destination. The ease of travel combined with every third night free at select properties all of February and March make now the ideal time to plan a winter getaway.
Those coming from Texas can hop on daily nonstop flights from both Dallas/Ft Worth (DFW) and Houston (IAH) into Montrose provided by American Airlines and United Airlines respectively. If traveling from the upper Midwest area, Chicago (ORD) has direct flights daily on United Airlines. Passengers coming from Denver (DEN) enjoy daily direct flights into the Montrose Regional Airport serviced by United Airlines as well as flights into the Telluride Regional Airport (TEX) operated by Great Lakes Airlines.
Both Allegiant Air and United Airlines service Los Angeles (LAX). Allegiant Air is a low cost air carrier providing affordable nonstop flights on Wednesdays and Saturdays while United Airlines offers flights on Saturdays and Sundays. Allegiant Air also has flights from Phoenix/Mesa (IWA/AZA) on Wednesdays and Saturdays. Even tourists from the East can visit Telluride utilizing Saturday flights from Atlanta (ATL) on Delta and Newark (EWR) on United.
If the luxury of direct flights isn't enough to entice a visit to Telluride, perhaps unbelievable lodging deals will. Telluride Alpine Lodging is offering every 3rd night free in both February and March. The February promotion is extended to any one bedroom condo or larger while the March promotion is property specific for The Bear Creek Lodge, a ski in ski out property located in Mountain Village. Telluride Alpine Lodging also offers affordable hotel rooms starting at just $99 a night. Visit their website Telluridelodging.com to find out more information on lodging specials and available properties.
Aside from world class skiing, Telluride has plenty of events, classes, and live music to keep vacationers occupied during their trip to paradise. Performances by The Wailers, Steel Pulse, Leftover Salmon and the Infamous StringDusters are on the upcoming calendar. The Ah Haa School for the Arts offers everything from wine tasting and cheese making to painting and clay making. The Telluride Ski Resort is planning their first annual Mountain Town Get Down in late March featuring live music and a bikini slalom. Check out Telluride.com for the most comprehensive source of information about the area, including a current list of festivals & events, information on 100's of things to do in the area, and descriptions of booking options and ski and stay packages for more than 350 hotel rooms, condos, and homes available to rent. Download the new Telluride.com application for free and have all the information you need on Telluride at the tip of your fingertips.
Never been to Telluride? The town was founded in 1858 after gold and silver were discovered, Butch Cassidy robbed his first bank here, Nikola Tesla selected the site to build the world's first power plant here, hippies re-settled these lands in the 60's, skiing arrived in the 70's, real estate agents invaded in the 80's, Tom Cruise, Oprah Winfrey and Oliver Stone vacation here, and Tim McGraw even wrote a song about it. Check out Telluride.com and plan your trip to paradise today.