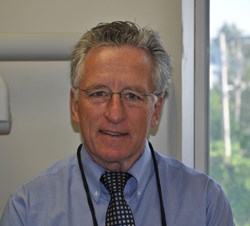 Braintree, MA (PRWEB) February 13, 2014
With February being American Heart Month, Dr. Thomas Mone is reminding patients of the connection between gum disease and heart disease. Research has established that the two conditions are correlated, and although the nature of the connection is still being investigated, Dr. Mone encourages his patients to seek gum disease treatment to mitigate this potential risk factor for heart disease.
Some patients may be surprised to hear that gum disease can affect general health, but research has long linked periodontal disease to various chronic health problems, including heart disease. In recent years, new studies have suggested ways that the development of gum disease and heart disease may be related. The bacteria that cause gum disease can enter the bloodstream through the mouth and cause problems elsewhere in the body. These bacteria may cause inflammation and platelet clumping, which makes a blood clot or obstruction more likely. The American Academy of Periodontology website Perio.org also reports that periodontal disease is known to worsen existing heart problems, making gum disease treatment especially beneficial for people who already have compromised health.
During American Heart Month, messages of the importance of a healthy diet and exercise are commonly heard, but Dr. Mone also recommends that his patients make their oral health a priority. Periodontal disease can often be prevented through good oral hygiene and the elimination of risk factors such as smoking cigarettes or eating a poor diet. Since gum disease and heart disease share many risk factors, including high blood pressure and smoking, patients may further be able to lower their risk of heart disease through eliminating these risk factors. Of course, patients who focus on protecting their oral health will also avoid undesirable local side effects such as gum recession, tooth loosening or loss, and changes in bone density levels.
People who notice gum disease symptoms like bleeding, swelling, and pain should remember that gum disease can have serious consequences. Dr. Mone encourages patients who notice these symptoms not to delay seeking gum disease treatment, and during February, he will remind patients of one more reason to take periodontal disease seriously. Anyone who needs more information on gum disease or needs to schedule an appointment can call Dr. Mone's office or visit his website today.
About the Practice
Mone Periodontics is a periodontal practice offering personalized dental care for patients in Braintree, MA. The leading periodontist at the practice, Dr. Thomas Mone, graduated from the University of Massachusetts with a bachelor's degree, and then went on to attend the University Of Pennsylvania School Of Dental Medicine and graduated at the top of his class. He completed his periodontal training at Boston University Goldman School of Graduate Dentistry. Dr. Mone is part of one percent of dental professionals providing the LANAP® FDA cleared laser procedure for gum disease and periodontal treatment. To learn more about Mone Periodontics and their dental services visit their website at http://www.braintreeperio.com and call (781) 348-9925.