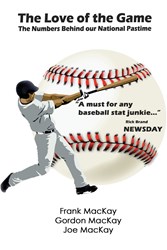 Rick Brand from NEWSDAY writes: Frank and Gordon Mackay knock the cover off the horsehide...a must[read].
Staten Island, NY (PRWEB) February 17, 2014
Boulevard Books is proud to publish The Love of the Game: The Numbers behind our National Pastime by Frank Mackay, Gordon Mackay and Joe Mackay. In it is a fascinating look at the numbers that make up the history of baseball in America. With style and a passion for the details of this timeless sport, the authors present the statistics of such great players as Babe Ruth, Hank Aaron, Ted Williams, Joe DiMaggio, Derek Jeter, Manny Ramirez and many more. Hits, runs, steals and other fascinating statistics of the game that is uniquely American take on new meaning as the authors find surprising details in the careers of the great players that have spanned the 20th century and beyond. A must read for anyone interested in the numbers behind American baseball.
For author events, please call Avi Gvili 917-825-0390 or email him at agvili(at)boulevardbooks(dot)org.