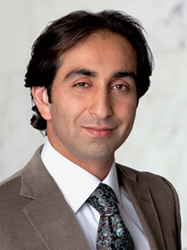 As many as 80% of salivary gland tumors begin in the parotid glands.
Beverly Hills, CA (PRWEB) February 18, 2014
Dr. Babak Larian, Director of the CENTER for Advanced Parotid Surgery in Beverly Hills, today revealed details about diagnosing salivary gland cancer, including the most common locations for tumors and methods that help diagnose cancer. Both benign (non-cancerous) and cancerous salivary gland tumors may develop anywhere in the salivary glands, but the majority of them happen in the parotid glands.
"As many as 80% of salivary gland tumors begin in the parotid glands," Dr. Larian said. "15% occur in the submandibular glands, and 5% form in the sublingual and minor glands. While most salivary gland tumors occur in the parotid glands, only 20% of them are cancerous."
The most common symptom of salivary gland cancer is a painless mass. It is important that you visit an expert if you've found a mass in your parotid glands, so that you can get a biopsy. A fine-needle biopsy will remove fluid and cells from the mass to determine whether or not the growth is cancerous. Exposure to radiation is the most well-known cause of salivary gland cancer. This includes environmental exposure and radiation therapy for cancer of the head or neck. To ascertain the extent of the tumor, an MRI scan of the face and neck may need to be performed, as well.
"Benign parotid tumors tend to grow but do not spread to other parts of the body," Dr. Larian explained. "As they grow, they may push on the surrounding tissue or wrap around it. If the facial nerve is next to the tumor, in time the tumor may press on it or even engulf it, making surgery more difficult."
The most common benign tumor of the parotid gland is Pleomorphic Adenoma, which makes up roughly 65% of tumors of the parotid gland. Pleomorphic Adenoma has a tendency to continuously grow, and unlike other benign parotid tumors, it has a roughly 10% chance of becoming cancerous if it is left to grow more than 15 years. Removal of the tumor and close monitoring is absolutely necessary in order to prevent a more serious problem from developing. Micro-Parotidectomy is a procedure that produces less scarring, pain, and recovery time than other surgeries.
"The treatment of tumors is based on the type of cancer," Dr. Larian stated. "Early diagnosis of the cancer is of utmost importance because it leads to a less extensive surgery, less complications, and much better outcomes."
World-renowned parotid gland surgeon, Babak Larian, MD, FACS, is a graduate of the highly regarded U.C. Irvine School of Medicine and has completed a six-year residency program in Otolaryngology and Head & Neck Surgery at UCLA. As the Director of the Center for Advanced Parotid Surgery in Los Angeles, Dr. Larian and his team of experts are responsible for the performance of cutting-edge minimally invasive salivary gland surgeries. Dr. Larian aims to provide his patients with the best possible care and surgical outcomes 100% of the time.
For more information about Dr. Larian and the Center for Advanced Parotid Surgery, please contact his office today by calling (310) 461-0300, or visit the expert parotid surgeon on the web.