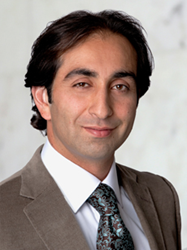 While most salivary gland tumors occur in the parotid glands, only 20% of them are cancerous.
Beverly Hills, CA (PRWEB) February 19, 2014
In a recent article, Dr. Babak Larian, the Chairman and Director of the CENTER for Advanced Parotid Surgery in Beverly Hills, discussed what patients should do if they have swollen parotid glands and the possible causes of such swelling. Parotid glands are part of the salivary glands and are located in front and beneath the ear. Tumors, stones, and infections may be factors that cause the glands to swell and produce discomfort.
"While most salivary gland tumors occur in the parotid glands, only 20% of them are cancerous," Dr. Larian said. "If you find a mass in your parotid glands, the first step is to get a biopsy to determine whether or not a growth is cancerous."
Salivary gland stones are another possible cause of parotid gland swelling. They affect 1 out of every 100 adults, and occur when tiny calcium, chemical, or debris deposits form into a rock-like shape in one of the three salivary glands in the mouth.
"Some patients who have salivary gland stones may experience facial pain, swelling, redness, dry mouth, and difficulty swallowing," Dr. Larian explained. "Tumors or stones can both be treated with minimally invasive surgery."
An infection, such as parotitis, may also produce swelling in the face near the ear or jaw. Parotid glands are continuously working to produce saliva, so they are more prone to infection.
"It's crucial that you see a parotid gland expert so that he can determine your exact condition," Dr. Larian stated. "Swelling doesn't necessarily indicate a parotid gland tumor, but you need to be treated promptly with special care so that your symptoms can be resolved as swiftly as possible."
World-renowned parotid gland surgeon Babak Larian, MD, FACS, is a graduate of the highly regarded U.C. Irvine School of Medicine and has completed a six-year residency program in Otolaryngology and Head & Neck Surgery at UCLA. As the Director of the Center for Advanced Parotid Surgery in Los Angeles, Dr. Larian and his team of experts are responsible for the performance of cutting-edge minimally invasive salivary gland surgeries. Dr. Larian aims to provide his patients with the best possible care and surgical outcomes 100% of the time.
For more information about Dr. Larian and the Center for Advanced Parotid Surgery, please contact his office today by calling (310) 461-0300 or visit him on the web at: http://www.parotidmd.com.