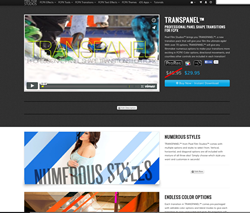 Transpanel has so many options, it can be customized into exactly what you are looking for to help complete your projects
Laguna Beach, CA (PRWEB) February 15, 2014
Final Cut Pro X plugin developers, Pixel Film Studios, announced the release of Transpanel, panel shaped transitions for Final Cut Pro X.
"Transpanel has so many options, it can be customized into exactly what you are looking for to help complete your projects", said Christina Austin, CEO of Pixel Film Studios,
Transpanel from Pixel Film Studios comes with multiple options and styles to select from. Vertical, horizontal, and diagonal options are all included with mixture of all three as well. Editors simply choose a style and customize in seconds.
Each transition in Transpanel comes pre-packaged with editable color options and blend modes to give each transition its own unique feel and style. No transition will look like the next and can be changed on the fly.
Users select a transition in Transpanel to use, drag it between clips, and stylize it. Each transition can be stretched or shrunk to be the length needed.
Transpanel from Pixel Film Studios was designed to work within Final Cut Pro X. All customization options are selectable in the FCPX Inspector window and can be changed in real time, saving time.
Established in 2006, Aliso Viejo, California-based Pixel Film Studios is an innovative developer of visual effects tools for the post-production and broadcast community. Their products are integrated with popular non-linear editing and compositing products from Apple FCPX. All Apple, the Apple logo, and Macintosh are registered trademarks of Apple Inc. in the U.S. and/or other countries. All other trademarks and trade names are the property of their respective owners.