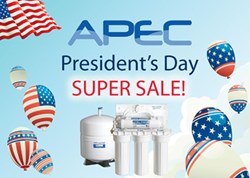 Our RO systems can purify tap water and turn it into high quality drinking water at fractions of the cost of bottled waters and without the plastic bottle waste.
City of Industry, CA (PRWEB) February 14, 2014
In honor of America's founding father George Washington's birthday, APEC water is offering exceptional deals on their entire line of home reverse osmosis (RO) drinking water filters and whole house water filtration systems. Starting today, every residential RO system will include a free clear housing upgrade, an extra yearly filter set, and a water testing meter ($100 combined value), in addition to 5% off already heavily discounted systems. Customers will also enjoy a 5% discount off all specialty whole house water filtration systems. From small apartments and condos all the way up to the presidential White House, clean water is of key importance to every family and home.
On September 12, 2013, First Lady Michelle Obama joined with more than a dozen organizations to promote the "Drink Up" campaign, which encourages all Americans to drink more water for better health. As an initiative that originated directly from the Office of the White House, APEC Water Systems took this advice as an executive order to offer more affordable water filtration products to the general public. "The President and First Lady have long championed the role of personal responsibility for all Americans when it comes to health and the environment," said Chris Rodriguez at APEC Water Systems. "One of the key objectives in the Drink Up campaign was to promote drinking tap water from eco-friendly reusable bottles; however, tap water often contains contaminants which are objectionable to many people. Our RO systems can purify tap water and turn it into high quality drinking water at fractions of the cost of bottled waters and without the plastic bottle waste."
APEC's systems use the same reverse osmosis process and technology that is used by many bottle water manufacturers, to provide great tasting drinking water right at home. These RO systems produce ultra-pure water, removing up to 99% of all contaminants found in tap or well water, and they eliminate the cycle of plastic waste caused from bottled drinking water. "Adding a whole house water filter makes a great complement to a RO system as they target more specific water concerns such as chlorine, iron, sediment and scale, as well as delivering purified water throughout the entire home to every faucet," says Rodriquez. "At APEC, we still believe in American exceptionalism. All of our systems are proudly built here in the USA and this President's Day sale is our way of saying thanks to everyone for supporting American-made products."
About APEC Water
For over 17 years, APEC has been an industry leading manufacturer of high performance residential and commercial water purification systems. Based out of Southern California, APEC specializes in building the highest quality reverse osmosis drinking water systems and backwashing whole house water filters right here in the USA. The company offers their products exclusively through their website at Freedrinkingwater.com which also provides an extensive water filtration guide and library to the public. To learn more about APEC Water and the Total Solution system, please visit http://www.freedrinkingwater.com or call customer service at 1-800-880-4808 for more information.