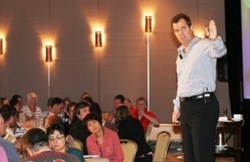 Seller finance help people buy houses with flexible payment terms. This type of strategy is beneficial for both buyers and investors, so they won't get trapped paying for an expensive loan even after the boom
(PRWEB) February 14, 2014
Australian Property Monitors shared that despite some predictions the Australian real estate market is "riding for a fall," the market still continues its growth streak as housing prices and auction clearance rates are higher than last year's figures, (the SBS.com.au reported on 10 February 2014).
The report revealed that the combined clearance rate for Sydney, Melbourne, Brisbane, and Adelaide jumped from 59 percent last year to 78 percent this year.
"The numbers only prove that demand for Australia real estate is higher than ever, and house prices will only continue to skyrocket as more and more people try to enter the property market," according to Rick Otton, the host of the highly-anticipated Ready, Set, Boom one-day training event.
"As I've said in my podcasts, the property market has its cycles. It won't be climbing forever. That's why purchasing Australian real estate shouldn't be based on how fast prices are at the moment. Rather, a smart investor accounts for all possibilities so that he or she can still create positive cash flow even if the market turns," he shared.
Mr. Otton explained in one of his latest interviewS for Ready, Set, Boom that after the global financial crisis, home buyers and property investors should be looking for alternative ways to buy a house, so they won't end up with houses that have created a mountain of debt.
"Seller finance help people buy houses with flexible payment terms. This is more efficient compared to the traditional process of buying and selling houses which requires the payment of A large cash deposit or taking out a home loan. This type of strategy is beneficial for both buyers and investors, so they won't get trapped paying for an expensive loan even after the boom," he discussed.
Learn how creative strategies can help you build A sustainable property investment business when Rick Otton stops over in Brighton Le Sands on 15 February 2014 for his Ready Set Boom free training event. Secure your free seats at http://readysetboom.com.au/ .
About Rick Otton
For over 23 years property millionaire Rick Otton has built an impressive real estate portfolio using innovative strategies that he has developed – strategies in which transactions are made without the need for traditional bank-type loans.
He constantly refines his techniques as he buys and sells properties through his We Buy Houses business which operates in Australia, New Zealand and the UK.
A gifted speaker and educator, Mr Otton conducts regular one-day free seminars across Australia, which build on the the concepts he shares in his 2012 book 'How To Buy A House For A Dollar', voted by Money Magazine and Dymocks Book stores as one of the Top 10 Most Popular Finance Titles for 2013.
He regularly records and publishes iTunes podcasts via his channel Creative Real Estate.
His innovative low-risk, high-reward approach to Australian real estate investing has been featured in a variety of television programs and magazines, including Today Tonight, Hot Property and Australian Property Investor.
To register for one of Mr Otton's free Australian one day seminars visit ReadySetBoom.com.au or phone, in Australia, 1300 888 450.