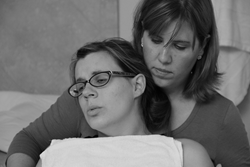 I try to ask the nurses questions that we have, in a way that allows them to share their expertise.
Amarillo, TX (PRWEB) February 24, 2014
Praeclarus Press and the Simkin Center for Allied Birth Vocations at Bastyr University are proud to present a webinar with Dr. Christine Morton as she discusses the important and relevant topic of birth doulas working in the traditional healthcare setting. Childbirth in America continues to be a challenging experience for many women. Rates of cesarean sections are at an all-time high. Almost half of American women described their recent childbirth experience as "traumatic," with 9% meeting full criteria for posttraumatic stress disorder. For increasing numbers of women planning to give birth in a hospital, hiring a doula, a woman who provides continuous labor support, is seen as a way to counter the common interventions often used in maternity wards. The doula's role is to provide individual attention, information, and support to her client, and to facilitate the same from the maternity clinicians.
But the role of doula does not come without dilemmas, such as how does a doula advocate for the woman in a setting where they may not be welcome? While most doulas report positive experiences working with physicians, nurses, and midwives in the hospital setting, difficulties can occur. Another dilemma is what doulas should do when hospital policies or clinical practices violate doulas' core belief that women have the right to plan for their birth, to be active participants in their care, and to be treated with dignity and respect. Doulas also face conflicts between their desire to provide both informational and emotional support. A doula may know what her client is entitled to as a healthcare consumer, but drawing attention to this during the interaction with a nurse or obstetrician may be perceived as interfering with the delivery of medical care.
Attendees of the webinar will be able to describe the background and methods used in research study by Morton as outlined in her book. Also covered will be the ways that nurses and doulas differ from each other, in terms of their organizational roles and relationships. And finally, strategies on how doulas may employ to resolve dilemmas that arise in the course of their care in hospital settings will be shared.
Register today for the webinar on March 25, 2014 and save 10% when you purchase Birth Ambassadors. Upon completing the online registration attendees will receive a coupon code via email for use in the Praeclarus Press online store.
Christine H. Morton, Ph.D. is a research sociologist whose research has focused on women's reproductive experiences and maternity care roles. Since 2008, she has been at Stanford University's California Maternal Quality Care Collaborative (http://www.cmqcc.org), where she conducts research on maternal mortality and morbidity. Birth Ambassadors: Doulas and the Re-Emergence of Woman-Supported Childbirth in America, which Dr. Morton co-authored with Elayne Clift, is currently available from Praeclarus Press.
Praeclarus Press is a small press specializing in women's health, founded by health psychologist, Kathleen Kendall-Tackett, Ph.D. Based in Amarillo, Texas, Praeclarus Press features books, e-books, webinars, white papers, and art.