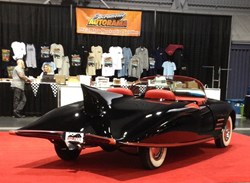 Sacramento, California (PRWEB) February 13, 2014
A stunning, long forgotten car toured as a Batmobile by a DC Comic licensee, All Star Dairies, has recently resurfaced. The car was built between 1961 and 1963 by two young men from New Hampshire and was initially used as a driver. In 1966, after its stint as a Batmobile, the car was returned to the original owner. The custom car will be displayed for the first time in 51 years at the Sacramento Autorama on February 14th, 15th and 16th.
Over the past 51 years, the car changed hands a number of times until, last year, Toy Car Exchange LLC purchased it from a Florida car historian, with the intention of restoring it to its previous glory. By then, the car was a forgotten, undriveable wreck, rotting in a grass field, home to spiders, snails and other such creatures. Despite its sorry state, the car's fiberglass body, perched on the 1956 Oldsmobile 88 chassis, still retained its unique, sleek, elegant lines.
The restoration was entrusted to Mario Borbon of Borbon Fabrications and the work became his labor of love for the past twelve months. In Mario's expert hands the car was brought back to life looking better than ever. The restored car is powered by a completely rebuilt 1956 Oldsmobile Rocket 88 motor. The car's black, lustrous body, accentuated with red markings, makes a strong statement but it is the finned back that draws one's immediate attention. The softly curved, space-age design is a testament to the creative era of the 1960s. The design is unique, pleasing to the eyes and evokes a bygone era.
The car was a labor of love when it was first designed by Forrest Robinson and it was a labor of love for Mario Borbon when he was restoring it over the past year; so it is only fitting that the first time the car will be displayed in 51 years, will fall on Valentines Day. See the car and fall in love with it!