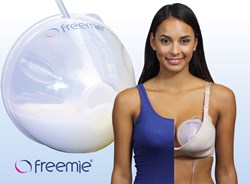 Pumping Needs To Be Easier
Silicon Valley, CA (PRWEB) February 14, 2014
In October, 2013, weeks before a planned announcement, word leaked out on Facebook that a new product called the "Freemie" would soon be available that would effectively allow a woman to pump breast milk without taking her shirt off. The website wasn't even finished before thousands of inquiries a day began pouring in from potential customers and resellers around the world.
Moms working hard to provide breast milk for their babies knew that two of the biggest impediments to pumping - finding the time and an acceptable place - might be removed any day. Everyone at Dao Health, the California company that developed the Freemie system, worked overtime to get the company's website, Freemie.com completed ahead of schedule, while some women begged, pleaded, and a few even demanded to be allowed to pre-order their Freemie cups before the website could take orders. In the US, where the company first began taking orders online, women stayed up late one night in November to be among the first to pre-order.
Sales have been growing ever since. During this winter of record low temperatures, sales have been noticeably higher, relative to population, in the states most affected by snow and ice. Dan Garbez, co-founder of the company, points out the obvious, "We do have the only viable breast pump system that does not require a woman to take her clothes off to use it. And it has been cold…" Garbez says some of these customers have even referred to themselves as "parka pumpers."
At the heart of the Freemie pumping system are cup-shaped devices with specially integrated breast funnels. The old horns and milk bottles are no more. The Freemie cups fit inside a woman's regular bra, connect to her breast pump for suction, and collect her milk in the cups – right there inside her bra, underneath her clothes. It is the breast pump rethought for modern life.
The Freemie system is the brainchild of Garbez's wife, Stella Dao, an emergency physician who delivered the couple's twins prematurely. Dr. Dao was dependent on a pump for several months to help her make the milk her 3 pound preemies so desperately needed. "I could not use the equipment that was available at that time and go back to work in an emergency room. Having to undress and find a private room in such a chaotic place, and be unavailable to nurses and patients was - to put it kindly - completely impractical," said Dr. Dao. After developing the concept, the couple then recruited a world class team of medical device and startup professionals to perfect the idea and bring it to the world.
The cups have to be big enough to hold the milk, and to accommodate a breast funnel in order to be effective at extracting milk. But for the user, the Freemie cups and her milk are secure in her bra, and she can keep her shirt on. With the right attire, many women are able to pump in public environments, and nobody's the wiser. Since the concept is so new to a mass audience, the company believes it is important to help potential customers visualize this new style of pumping. They have developed a visually instructive website with videos and graphics, and are working on videos with fashion industry pros to help women identify what they call "Freemie Friendly Fashions."
In truth, the company's concept had already been around for a few years before the October hysteria, but it was not widely known. The first generation of the Freemie system was introduced in 2009. The original product had only one breast funnel size and cups that held only four ounces of milk each. It got good reviews. It was a great start. But after that initial market launch, principals at the company heard some feedback, and decided they could do better. So rather than focus on marketing the first generation design, they focused on some basic functional and design improvements. The results: The cups are a little smaller, even while capacity doubled to 8 ounces per cup, assembly is simpler with less parts, and two more funnel sizes were added to the original size.
The Freemie cups are available with a quiet electric pump (Freemie Freedom) and the world's only concealable, one-handed, double manual pump (Freemie Equality). But the biggest surprise - in a market where almost every company's pump and milk collection systems are proprietary, and not interchangeable - is that these revolutionary collection cups are compatible with the most popular pumps on the market. Garbez said, "A lot of companies make a pretty decent vacuum pump that will extract breast milk. It's pretty basic technology, and has been in use for more than a century. It doesn't need to get too complicated. What was missing was a modern user interface. Not anymore."
Garbez continued, "We're happy to work with these companies, so that moms can make the most of the money they have already invested in those pumps. We are giving moms the ability to actually pump as much as they had hoped, so that they can achieve their feeding goals for their babies. What we've done is like adding an app-based touch screen to a computer that was running on DOS. It's easy to set up and use, and more versatile and practical in most situations."
The company's confidence in their second generation design has been reinforced by user reviews on social media sites. Women have been openly professing their love for their Freemie cups. Moms exhausted from the sleepless days and nights of caring for a newborn have been recounting with glee the routine tasks they can now easily handle that were difficult or impossible to manage before. Some pump and nurse their babies at the same time, or help older children with homework while pumping. Moms can comfortably hold and soothe their babies while pumping. Women are pumping around their male bosses. One grateful mom simply summed it up this way: "The best invention since chocolate."
Many women also seem surprised that they found the Freemie cups more comfortable than their old pump equipment. But the Freemie Team isn't surprised that this observation occurs over and over. Ben Sutton, one of the co-founders, who now oversees product development and engineering, points out some factors that might not be so obvious. "Our patented system enjoys a unique advantage that no other product can match. It's simple physics. Our cups are very lightweight, yet still connect to the most powerful pumps. They collect and hold the milk right around the breast, secure in a woman's bra, just as her breast is supported by that bra. The center of gravity that her bra is supporting barely moves as the milk collects, so the shifting weight of her milk is insignificant. The cups don't contain any heavy motors or batteries that add weight and downward pressure on the breast, like some tried and failed concepts. And we are not hanging a bottle that is filling with milk several inches away from and below a woman's nipple, hinged on the thin edge of a funnel that is pulled into the underside of her breast." All the other hands free pumping systems on the market do just that. There are rubber bands, straps, combinations of hooks, clips and straps, and crazy looking tube tops, bras and corsets with holes cut out over the nipple areas. Garbez added, "Each of these 'hands free' contraptions simply jury rigs the traditional horns and bottles, which were designed to be held by hand. And then many women still end up having to support the milk bottles with one hand or an arm, or rest them on a table when the milk starts collecting. We've heard from countless women that these contraptions are uncomfortable."
Dr. Dao is quick to point out that pumping is a very personal endeavor, and the company is only providing one set of tools among dozens in the market for customers to choose from. "Mom still has to do all the work. And some women have routines or habits or other needs that may require a different set of tools than the hands free tools we're focused on. But for the vast majority of women around the world and across cultures, where electrical power may or may not be available, or where cultural norms require modesty, pumping can be a whole lot easier. We are helping thousands of moms meet their breastfeeding goals who couldn't continue lactation without us. Soon, we will be helping millions. It's humbling. But it's also exciting!"
Whether a woman uses the Freemie cups exclusively or occasionally, Dave Paul, another co-founder, estimates the company's new product line already has a solution that could help between 60 and 75 percent of all new mothers worldwide. For the Freemie Team to realize that potential, these Silicon Valley startup veterans know a lot of work lies ahead. But the prospects are bright, as inquiries continue to pour in from around the world. Paul said, "We welcome inquiries and are exploring opportunities globally with companies big and small, to make the Freemie system available everywhere. With the help of new partners in new lands who share our passion, we will make pumping easier, help advance breastfeeding rates and make an important contribution to global health. Women from the Mekong, to Manhattan, Milan and Mumbai all want their babies to be well nourished. We are going to help them."