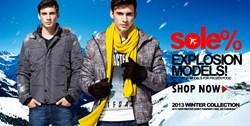 (PRWEB) February 16, 2014
Recently, Skmen.com, a well-known clothing manufacturer in the world, has released its new range of quality men's discount suits. At the moment, the company's online shop is featured with hundreds of fashionable suits. In addition, the company provides worldwide customers with low shipping fees.
About The Company's Statement
The CEO of the company says, "We are excited to unveil our new suits. Each of them is made from top materials and feature with trendy designs. They are well manufactured by our top experts that have been working in the industry for a long time. The special offer is launched to show thanks to new and old clients. It will come to an end on February 28, 2014."
In addition, Skmen.com aims to a one–stop online shop that can provide worldwide gentlemen with the most fashionable items. Its professional designers are always working hard to develop new products
About The Hottest Designs
Currently, the most popular items are: 3-Ruler Fashionable Casual Stand Collar Suit, 3-Ruler Spring Fashionable One Button Casual Suit and 3-Ruler Special Contrasting Color Casual Suit.
The details of the 3-Ruler Fashionable Casual Stand Collar Suitis as follows:
Occasions: Casual
Fabric: Other
Season: Autumn, spring
Color: Black, dark gray, dark blue
Size: M, L, XL, XXL
Wash Notes: Wash by hand in 30 degree Celsius water, hang to dry, avoid bleaching.
About Skmen.com
Skmen.com, a China-based company founded in 2009, is one of the leading suppliers of men's and women's high quality clothes. It has more than 5000 customers from every part of the world; it hopes to help worldwide stylish ladies and gentlemen. For more detailed information about the company and its wonderful items, readers can visit http://www.skmen.com/product-men-s-suits-009009.aspx.