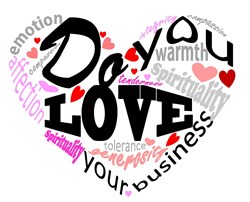 "While many people talk about profits and productivity as the necessary ingredients, I believe that a business's long-term success is built on staff who love working there and customers who love the company's products or services." – Richard Branson
Edinburgh, Scotland (PRWEB UK) 14 February 2014
"While many people talk about profits and productivity as the necessary ingredients, I believe that a business's long-term success is built on staff who love working there and customers who love the company's products or services." – Richard Branson
The word "love" is infrequently used within the business setting. Perhaps unsurprisingly, hard-nosed business people imagine themselves to be less than comfortable at the thought of emotion and feelings being expressed on the sales floor.
What however, if we were able to illustrate the business value of using love within our professional lives? What if the paradigm were shifted just slightly so that the word "love" within the business environment encompassed such ideas as compassion, tenderness, care, affection, tolerance and nurturing?
So what potential advantages could you find from introducing a more loving culture into your company?
Companies are now ever more demanding of their customers, clients and partners. It has become increasingly simple for unethical trading and morally bankrupt organisations to be exposed and lose the business of unsatisfied consumers. In the same vein, employees, especially young Millennials, are demanding that their employers have an ethical culture and trading practices. This in turn leads to an increase in employee engagement levels.
Engaged employees have an emotional attachment to their employer, its values and culture and are therefore inclined to give additional effort and commitment towards that employer. This in turn equates to increased customer satisfaction as they receive a higher level of service. Organisations that behave in an ethical and responsible manner by embracing love and compassion are far more likely to have engaged employees and thereby satisfied customers.
Employees can be further engaged in the workplace by their peers acting in a nourishing manner. Those who receive affection, tenderness, care and compassion from their colleagues tend to perform at a higher level and reciprocate these values. This in turn leads to enhanced engagement and thus customer satisfaction.
It has also been argued that there has been too much of a step change in working practice so that employment no longer fulfills a basic human need, which is to find value and purpose in what we do. Injecting a sense of humanity, purpose and trust can all help the bottom line.
How do you go about injecting love into your organisation?
One suspects that if you have been emotionally detached within your business and go in tomorrow proffering roses, chocolates and hugs to all and sundry that you may promptly be dispatched to a doctor's surgery.
It is possible to however, to develop an interpretation of love that will work within your business. Think of some of the nouns we have used in our discussion this far. Could words like emotion, affection, spirituality and generosity have a place within your organisation?
The happily married amongst you will know that one of the keys to staying that way is through open channels of communication. Allowing small things to grow and fester until they come to a boiling point is not healthy. The same is absolutely true of your business. Good communications is imperative to keep employees engaged and it also works to keep the love flowing. Ensuring that communications are genuinely two way and asking colleagues to consider how certain actions make them feel will allow for trust and transparency to endure within your company.