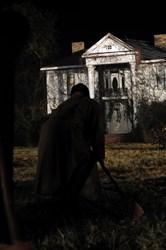 Los Angeles, CA (PRWEB) February 14, 2014
The horror-suspense feature "Dark House," starring the iconic Tobin Bell ("Saw"), begins its day-and-date roll-out in March. Paladin will release the movie in New York and Los Angeles on March 14, with additional markets to follow. On March 11, Cinedigm launches the film in North American across cable VOD, Blu-ray Disc and DVD. "Dark House," which follows the terrifying road trip of a young man in search of his dark past, is the freshman effort of LA-based Charles Agron Productions. The company, which expects to announce an international distribution deal in coming days, is also in early stages of pre-production on a second horror title, "Monday at 11:01AM."
"Dark House" is directed by Victor Salva, a genre favorite whose two "Jeepers Creepers" films broke box-office records and are seminal in the horror canon. Salva co-wrote the script with producer Charles Agron, based on a story by Agron.
Headlining the cast is Tobin Bell. His portrayal of Jigsaw in the "Saw" franchise was called "brilliant and formidable" by the BBC, and made him one of "the most acclaimed names in the world of horror," according to Bloody Disgusting. Up-and-coming young actor Luke Kleintank ("Pretty Little Liars," "1000 to 1") stars, along with Alex McKenna ("Crossing Jordan", "Dallas"), Zack Ward ("Postal") and multiple award-winner, Lesley-Anne Down ("Upstairs/Downstairs").
Like http://www.facebook.com/darkhousemovie, and follow https://twitter.com/darkhousefilm to join the conversation and get upcoming news on "Dark House," including exclusive video and photo premieres.
Says Charles Agron, President of Charles Agron Productions, "It is so gratifying to see this film--which I first sat down to write four years ago--wind up with an iconic director and star, an ensemble of very exciting young actors, and a pair of distributors with deep experience in horror to bring 'Dark House' to audiences." In addition to producing the film, and co-writing with Victor Salva, Agron plays a lead role in the film.
"Dark House" is a thrilling and horrifying road trip, full of twists and brutal surprises; a suspenseful thriller about a young man and a chilling old house that has survived decades, awaiting the return of its prodigal son… a house that can escalate Nick's gift to see death before it happens, but holds within its walls the origins of a dark family legacy so horrible it may have already reached out to Nick's unborn child.
The "Dark House" distribution agreements were negotiated by Charles Agron, Paradigm and attorney Leigh Leshner on behalf of Charles Agron Productions; Mark Urman for Paladin; and Director of Acquisitions Kristin Harris for Cinedigm.
CHARLES AGRON PRODUCTIONS presents in association with BLUE HORSE PICTURES a VICTOR SALVA film "DARK HOUSE" LUKE KLEINTANK ANTHONY REY PEREZ ALEX MCKENNA ZACK WARD LACEY ANZELC ETHAN S. SMITH with LESLEY-ANNE DOWN and TOBIN BELL as 'Seth' Music Composed by BENNETT SALVAY Edited By ED MARX Production Designer CARMI GALLO Costume Designer LYNETTE MEYER Director of Photography DON E. FAUNTLEROY, ASC Associate Producers BEVE REGAS RON MONARD Line Producer JONATHAN BLACK Co-Producer TOBIN BELL Co-Producer CHRISTINE MARINO Executive Producer DR. MICHAEL AGRON Produced By CHARLES AGRON Produced By DON E. FAUNTLEROY Produced By VICTOR SALVA Story By CHARLES AGRON Screenplay by CHARLES AGRON and VICTOR SALVA Directed By VICTOR SALVA
Rated R:
"Dark House" has been rated R by the Motion Picture Association of America for the following reasons: horror, violence and language.
PRESS CONTACTS:
DoubleK PR & Marketing:
Los Angeles:
Beve Regas,
b (dot) regas (at) kallistapr (dot) com
+1-818-850-1279
New York:
Sharon J. Kahn
sjkahn (at) kahnmediastrategies (dot) com
+1-917-301-9131
For CINEDIGM, please contact:
Bender/Helper Impact:
Courtney Dolliver
Courtney_dolliver (at) bhimpact (dot) com
+1-310-694-3254