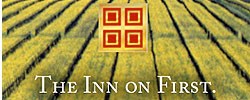 Napa, CA (PRWEB) February 19, 2014
The Inn on First is excited to welcome their newest staff member, Maxwell Black. He is an unconventional employee, as he is a miniature schnauzer mixed breed, but he is an integral part of the team and important to the service provided to guests.
Maxwell Black was an abandoned puppy, and The Inn on First adopted him in December. Since then, he has been welcomed as an important member of the staff. Along with Hugo Boss and Calvin Klein, The Inn on First's other two miniature schnauzers, Maxwell Black interacts with the guests daily and is a source of pleasure for those who love dogs. Many guests who have left their own dogs behind during their trip are appreciative of the canine attention Maxwell Black can give them.
Maxwell Black's gentle demeanor is an invitation for those in need to find tenderness, peace and joy in their day. As a dog-friendly inn, The Inn on First believes Maxwell Black's presence will provide great pleasure to guests and staff members alike for years to come, as well as encourage others to adopt abandoned dogs in need in their own communities.
For more information about The Inn on First's unconventional staff member, visit their website at http://theinnonfirst.com/ or give them a call at 707-253-1331.
About the Company:
The Inn on First provides romantic getaways in the Napa Valley that will surpass all expectations. They can offer landscapes of rolling hills and beautiful vineyards of the entire Napa Valley. With a location that is one of the most sought after destinations in the country, the Inn and rooms are the perfect complement to a Napa Valley experience and make for a romantic atmosphere for loved ones. The Inn on First is always committed to providing their guests with an experience unlike any other, providing them with the utmost care and service. For more information, please visit their website at http://theinnonfirst.com/.