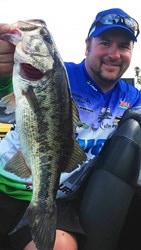 We know Fred is a great ambassador for the sport of bass fishing, and we know he will be that for Larew as well.
Tulsa, OK (PRWEB) February 14, 2014
Professional bass angler Fred Roumbanis is taking two things from his Tulsa, Okla. home that he believes will have him well prepared for next week's Bassmaster Classic in Alabama: cold-water bass expertise and Gene Larew Lures. 
The sponsorship relationship between Roumbanis and Larew is brand new, but the two parties have known each other for years. 
"We're always crossing paths with Fred and having this opportunity to work together makes perfect sense," explained Larew owner Chris Lindenberg. "We know he's a great ambassador for the sport of bass fishing, and we know he will be that for Larew as well."
Roumbanis already has Larew on his truck and boat wrap and their baits among his tackle assortment.
 
"Without a doubt, Larew has introduced a number of innovative baits in the last 4 or 5 years," Roumbanis said. "Biffle (pro angler Tommy Biffle) has proven the Larew Biffle Bug is the real deal all across the country, and my experiences with their Rattlin' Crawler, TattleTail and Salt Flick'R this winter have been eye-openers. Larew fits right into my wheelhouse."
Roumbanis said he spent some time preparing for the Classic on various lakes in northeastern Oklahoma, including Grand and Tenkiller where he saw surface temperatures as low as 39 while there, which could be helpful in patterning a bite in next week's big event. 
 
The 2014 Bassmaster Classic is scheduled for Alabama's Lake Guntersville, Feb. 21-23. The area has had snow and ice in recent days, so water temperatures will remain low in spite of improving air temps for the tournament dates. 
 
With the signing of Roumbanis, Larew has three anglers competing in the Classic. Biffle and John Murray are the other two. 
For more information on Larew products and anglers, visit http://www.GeneLarew.com.