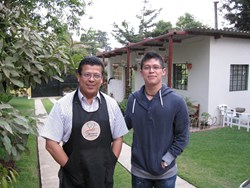 We invite all central Ohio coffee lovers to stop by for handcrafted coffee samples and great conversations about growing, roasting and brewing coffee. - Greg Ubert
Columbus, OH (PRWEB) February 14, 2014
Ohio coffee roaster Crimson Cup Coffee & Tea is bringing Guatemalan Q Grader Jorge De Leon Ovalle to Columbus on Saturday, Feb. 15 for a pair of Clintonville coffee tastings. De Leon will prepare samples of two Guatemalan coffees from 10 a.m. to noon at Crimson Cup Coffee House, 4541 N. High Street, and from 2:00 to 4:00 p.m. at Weiland's Market, 3600 Indianola Avenue.
"We invite all central Ohio coffee lovers to stop by for handcrafted coffee samples and great conversations about growing, roasting and brewing coffee," said Crimson Cup Founder and President Greg Ubert. "Jorge's amazing palate helped him become the world's youngest Q Grader a few years ago, and we've been fortunate to benefit from his expertise in selecting our Guatemalan Coffees."
In 2013, Coffee Buyers Dave Eldridge and Brandon Bir traveled to Guatemala to find great coffee to bring back to the Crimson Cup community. They met with De Leon and his father Jorge De Leon De Leon, one of Guatemala's most respected cuppers. Father and son are both licensed Q Graders, a professional accreditation from the Coffee Quality Institute that enables cuppers to grade Arabica coffees.
On Saturday, De Leon will prepare two Guatemalan coffees discovered during last year's trip: Jorge's Pick, a Bourbon Blend, and Finca El Pintado, which is the only organic coffee farm in Antigua, Guatemala.
This is De Leon's second visit to central Ohio. At home, he helps local coffee farms produce and sell their coffee to roasters and also operates his own coffee house outside Guatemala City.
About Crimson Cup Coffee & Tea
Since 1991, Crimson Cup Coffee & Tea has hand-roasted specialty coffee in Columbus, Ohio and taught independent business owners how to be successful through its coffee shop franchise alternative program. Sustainably sourced Crimson Cup coffee is available through a network of more than 350 independent coffee houses, grocers, college and universities, restaurants and food service operations across 28 states, as well as the company's own Crimson Cup Coffee House in the Columbus suburb of Clintonville. For more information, visit crimsoncup.com.
About Crimson Cup Coffee House
Founded in 2007, Clintonville's Crimson Cup Coffee House serves specialty-grade "coffee, espresso and loose-tea along with breakfast sandwiches and locally sourced muffins and breakfast pastries. Highly trained baristas prepare espresso-based drinks as well as single-origin coffees at the Crimson Cup Brew Bar. The Coffee House also serves as a testing and training laboratory for Crimson Cup Coffee & Tea, which has been locally roasting coffee in small batches since 1991. For more information, visit crimsoncupcoffeehouse.com.