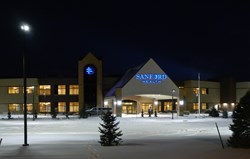 "We are not just moving, we are reinventing ourselves."
Dickinson, ND (PRWEB) February 17, 2014
The new Sanford Health Dickinson Clinic, which is replacing the existing Sanford Health Dickinson Clinic, is now open. The new clinic, located at 2615 Fairway St., is more than six times the size of the current clinic at 938 Second Ave. W. and can house more than 20 physicians, providing better patient access than ever before.
"Sanford made a promise to invest in health care in western North Dakota, and this clinic helps deliver on that promise," said Craig Lambrecht, MD, president of the Bismarck region of Sanford Health. "The new clinic will allow patients better access to primary care and allow them to stay closer to home for specialty care. We're committed to providing quality, state-of-the-art health care to Dickinson, Stark County and all of western North Dakota and eastern Montana."
New services at the clinic will include infusion services for cancer treatment, a separate area for walk-in patients that features extended hours, space for a mobile MRI unit and the world's most advanced CT scanner. An ambulatory surgery center is expected to open this summer. Regular clinic hours for the new clinic are 8 a.m.–5 p.m. weekdays. Walk-in clinic hours are 8 a.m.–8 p.m. weekdays and 10 a.m.–4 p.m. on weekends.
"We are not just moving, we are reinventing ourselves," said Gordon Thomas, MD, family medicine physician who has been with Sanford Health Dickinson Clinic for 30 years. "In 1916 the clinic began in downtown Dickinson and has moved a couple times and made additions. The new clinic is the latest in this process of providing better and better care for this community."
Sanford Health Dickinson Clinic features more than 20 dedicated and experienced health experts in family medicine, internal medicine, obstetrics and gynecology, orthopedics, general surgery, pediatrics and sports medicine. Visiting specialists in cardiology, orthopedic surgery, podiatry, urology and oncology/hematology also travel from Bismarck to Dickinson to provide specialized care close to home.
"We're excited about it being a super clinic as that brings quality services and more services closer to home," said Sister Paula Larson, member, Sanford Board of Directors.
For more information, visit dickinson.sanfordhealth.org or sanfordhealth.org/Construction/Dickinson.
About Sanford Health
Sanford Health is an integrated health system headquartered in the Dakotas and is now the largest, rural, not-for-profit health care system in the nation with locations in 126 communities in nine states. In addition, Sanford Health is in the process of developing international clinics in Ghana, Israel, Mexico and China.
Sanford Health includes 39 hospitals, 140 clinic locations and 1,360 physicians in 81 specialty areas of medicine. With more than 26,000 employees, Sanford Health is the largest employer in North and South Dakota. The system is experiencing dynamic growth and development in conjunction with nearly a billion dollars in gifts from philanthropist Denny Sanford. These gifts are making possible the implementation of several initiatives including global children's clinics, multiple research centers and finding cures for type 1 diabetes and breast cancer. For more information, please visit sanfordhealth.org.
###