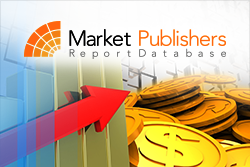 London, UK (PRWEB) February 14, 2014
Market Publishers Ltd is announced as a media partner of the Market Research in the Mobile World 2014 (MRMW Asia 2014), happening on March 4-7, 2014, in the Lion City of Singapore.
Trusted by over 3000 visitors from across the world, Market Research in the Mobile World 2014 (MRMW Asia 2014) is the leading-edge conference for the market research industry. Corporate and independent researchers, technology innovators, research agencies, and a host of others actively engaged in the online and mobile universe will gather in Singapore this spring to discover the best mobile research methodologies from the world's leading experts and brands.
MRMW Asia 2014 is the very place where you will be able to rub elbows with the leading-edge brands and innovators in the mobile industry, absorb plenty of tips and novel techniques, besides enjoying large-scale networking opportunities.
Event Details:
Market Research in the Mobile World 2014
Date: Tuesday 4 March 2014 – Friday 7 March 2014
Location: the Ramada Hotel Singapore, Singapore
http://marketpublishers.com/events/market_research_in_the_mobile_world_2014.html
Key Reasons to Attend:

Discover how Coca-Cola is utilizing mobile to comprehend beverage consumption behavior.
Find out how DBS Bank is measuring customer centricity across different channels.
Learn how Emami is investigating new frontiers by way of tablet-based ad testing.
Listen to how Google Glass and augmented reality (AR) can be exploited as an insightful business tool.
Understand the challenges faced by Kellogg and NTUC FairPrice while using mobile tools for research.
and more ...
Speakers at MRMW Asia 2014 include but are not limited to:

Maharaj Singh, Director Marketing Strategy & Insights – Coca Cola
Srinivasan Swaminathan, Senior Manager Consumer Insights – Standard Chartered Bank
Mardien Drew, Head of Digital Incubation and Kantar Mobile PM – Kantar Mobile
Christel Quek, Regional Content Lead – Twitter
Namita Mediratta, Regional Director, Consumer & Marketing Insights - Unilever
Melissa Gil, Director, Customer Intelligence – SingTel
Christina Lim, Director, Brand and Marketing – NTUC FairPrice
Tyrone Almeida, Director, Insights and Planning – Kellogg Company
Desmond Chan, Head of Research – CELCOM
Joe Webb, Head of Digital, Greater China – TNS
Piers Lee, Senior Consultant & Managing Director – BDRC Asia Pte Ltd
Xiaoyu Lin, Senior Executive – Nielsen
Ray Poynter, Vice President & Director – Vision Critical
Alistair Hill, CEO, On Device Research
Samy Mardolker, Managing Director – ORC International
Mark Shoebridge, Managing Director – biNu
Amy Shi-Nash, Director, R&D Lab – Singtel
Mark Michelson, Executive Director – MMRA
Dr. Con Menictas, Behavioural Modelling – Qantas Loyalty
MRMW Asia 2014 is a must-visit for anyone who wishes to be abreast of actual industry trends, get to know new exciting speakers and soak up surprising insights.
Please note that Market Publishers' registered customers are eligible for special discounts.
To register at MarketPublishers.com please visit our Registration Page.