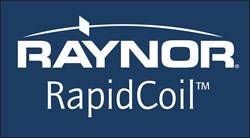 Dixon, IL (PRWEB) February 14, 2014
Raynor is excited to introduce the RapidCoil™ line of High Performance doors to our product line. RapidCoil doors are designed for both interior and exterior applications requiring high speed doors where superior performance is required.
Raynor's line of RapidCoil doors utilizes industry leading sealing technology making these doors more efficient than conventional gravity doors on the market. By combining a tight sealing door with high speed operation, heat loss is minimized and a more energy efficient environment is created, which can decrease operating costs in manufacturing environments. The RapidCoil line also features a soft bottom bar across all models adding an uncompromising safety factor into the entire line.
"Raynor is very excited to introduce our new line of RapidCoil High Performance doors," said Pete Elsenbach, Director of Marketing at Raynor. "We are continually looking at ways to round out our product line and provide our dealers with the products they need to be competitive in the marketplace. The RapidCoil line of doors fits nicely in our product assortment."
The RapidCoil family consists of 4 models engineered to exacting standards to operate quickly and safely in a variety of environments; RC100, RC200, RC300 and RC300HD. For more information on RapidCoil High Speed Doors visit http://www.raynor.com.
Raynor has been a family-owned leader in garage door manufacturing since 1945, with home offices located in Dixon, Ill. For more information, visit http://www.raynor.com.