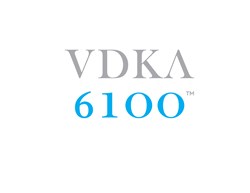 "I'm very proud to be associated with the creative team behind the launch of VDKA 6100. It will be personally rewarding to be a part of its growth," said Robert De Niro.
New York, NY (PRWEB) February 14, 2014
Independent Australian spirits company, Artisan Spirit Merchants LLC, announced the U.S. launch of VDKA 6100 (pronounced Vodka 6100), a remarkably pure and smooth premium vodka with a global sensibility. VDKA 6100 will premiere today in three states, New York, Connecticut and New Jersey.
VDKA 6100 brings together the world's best artisans, and sources the finest raw materials for an unparalleled luxury drinking experience. Inspired by the Australian country code, VDKA 6100 name pays homage to its Australian roots, leading New York designer, Joe Doucet, created the bottle to highlight the quality and purity of what's inside. The distinguished bottle is handcrafted from the world's best glass manufacturer in France, Saverglass, and topped off with a silver lid and cork from Italy. But it's the unique raw ingredients of the vodka that sets VDKA 6100 apart, distilled from fresh seasonal whey and natural spring water from New Zealand, one of the most pristine places in the world. The whey is sourced from grass-fed cows' milk, which is 3x distilled and filtered through a bed of carbon, producing a silky, ultra-smooth liquid.
"Greatness is born of collaboration; we tapped the best craftsmen from around the world to give life to VDKA 6100, the world's first global vodka. We distill our vodka in New Zealand from whey and the result is a cleaner, purer vodka which is gluten free, sugar free, and lactose free," said CEO Tim Szonyi.
The theme of collaboration doesn't end there; key players behind the Brand include Australian casino mogul James Packer and world-renowned actor and businessman Robert De Niro. De Niro, a global tastemaker and visionary in the hospitality industry, is a co-creator of VDKA 6100. He has been intimately involved in launching the brand in the U.S. and eventually worldwide.
"I'm very proud to be associated with the creative team behind the launch of VDKA 6100. It will be personally rewarding to be a part of its growth," said Robert De Niro.
The product taste is light as a cloud. It is best enjoyed in its purest form on the rocks, and its smoothness makes it the perfect choice for mixed cocktails. The advertising campaign, inspired by the taste of the vodka, depicts the cloud covered dawn of a new day and heralds the tagline "It's Already Tomorrow", an optimistic and Australian sensibility that invites consumers to celebrate the possibilities that tomorrow holds and to seize the day.
VDKA 6100 will officially launch in New York, New Jersey, and Connecticut on February 14th, 2014 and will be distributed by Opici Family Distributing Co. in all three states. VKDA 6100 will be available in two sizes, 750ml, retailing for $34.99, and a 1-liter bottle for $44.99. For more info, visit http://www.VDKA6100.com and follow us on Facebook @VDKA6100 and Twitter @VDKA6100.
Artisan Spirit Merchants,LLC:
Artisan Spirit Merchants (ASM) was established in 2004 and is an Australian producer of award-winning spirit brands, selling over 65,000 9L cases per year. ASM's flagship brand, VODKA O, is Australia's 3rd highest selling premium mainstream vodka brand behind Smirnoff and Absolut. ASM also recently launched TEQUILA BLU 100% blue agave premium tequila from the town of Tequila, Jalisco, Mexico.
The Team:
Margaret Jackson, Chairman of the Board, ASM, is an experienced and highly regarded Australian businesswoman. She also is the current Chairman of Flexirent Ltd, and the former Chairman of Qantas Airways Ltd.
Paul Gardner, President, VDKA 6100, is an experienced marketing and branding advisor and past Chairman of Australia and New Zealand operations for the global advertising giant Grey Group.
Tim Szonyi, CEO, is a seasoned liquor industry veteran. He handled Bacardi and Heineken as Regional Partner for McKinney Rogers Strategy Execution, was Sales Director for Red Stripe, and GM for Diageo in New Zealand.
Robert De Niro, American actor and business entrepreneur, is a co-creator of VDKA 6100. He is involved in launching the brand in the US and eventually worldwide. A global tastemaker, Mr. De Niro was tapped from the beginning for his reputation as a visionary in the hospitality business.
James Packer, one of the world's most successful Hotel & Casino operators and Australia's most influential businessmen, joined as an ASM investor in March 2013. James and his team bring unprecedented experience and expertise to ASM and the US launch.