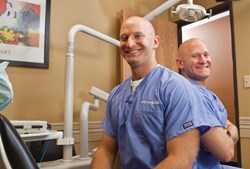 Austin, Texas (PRWEB) February 16, 2014
February is National Children's Dental Health Month, and the Round Rock and Austin dentists at Family Tree Dental Group are raising awareness about the importance of getting an early start on proper oral hygiene for kids.
"Parents may not be aware of that the developing teeth of their young children require special attention. Just because baby teeth are 'temporary' doesn't mean they don't have a lasting effect on the well-being of the mouth and the primary teeth," said Dr. Chad Denman, Austin dentist / Round Rock dentist and owner of Family Tree Dental Group. "Some of the statistics on the state of kids' dental health is alarming. It's essential that parents help guide their children into developing good habits at an early age to get a good start on a lifetime of healthy teeth and gums."
To ensure children are receiving the best oral health care treatment possible, parents should be aware of ten dental facts related specifically to kids:
1) According to the Centers for Disease Control and Prevention, tooth decay is the number one chronic infectious disease affecting kids in the U.S.A. The bad news is that it's still on the rise. The good news is that's almost entirely preventable.
2) Tooth decay rates in deciduous teeth (otherwise known as primary teeth or baby teeth) in children from two to five years of age have increased by 17% in recent years.
3) Tooth decay affects about 42% of children from two to eleven years of age in the U.S.A.
4) Treatment of severe early childhood caries (cavities) can cost up to $1,725 for a child with 16 to 20 lesions.
5) If a child needs to be hospitalized and treated under general anesthesia to facilitate dental treatment of severe early childhood caries, that could add up to an additional $6,000 in dental care costs.
6) Oral health problems can affect the academic performance of students. Kids with tooth problems are three times more likely to miss school due to dental pain than those with healthy teeth.
7) The American Dental Association recommends that parents should take babies in for dental visits either when their first tooth appears or no later their first birthday.
8) Just like adults, children should have regular dental checkups every six months or as instructed by their dentist.
9) To ensure proper brushing techniques, parents should supervise their children's teeth-brushing until age 7 or 8.
10) The Affordable Care Act requires the new health insurance marketplaces to offer dental plans for children. Visit the healthcare.gov website for more information.
Family Tree Dental Group was founded in 2011 by Austin dentists - Round Rock dentists and identical twin brothers Drs. Chad and Shelby Denman to provide high quality dental care in a state-of-the-art environment with careful attention to detail and deep personal respect. Family Tree Dental Group helps maintain the oral health of patients of all ages and cares for all dental needs under one roof. For more information, call (512) 458-5999 in Austin, (512) 310-3999 in Round Rock, or visit http://www.FamilyTreeDentalGroup.com.