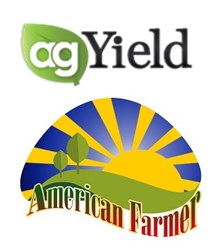 Clarendon Hills, IL (PRWEB) February 18, 2014
AgYield announced today that they will be featured in an upcoming episode of American Farmer airing later this year on RFD-TV.
AgYield, which was created to empower farmers, is backed by 45 years of clearing and commodities risk management experience and agricultural expertise stemming from three generations of family farming.
This segment will educate viewers on AgYield's marketing tools, which include crop insurance, cash contracts, futures, and options positions. These tools come together to create a range of revenue and profitability outcomes depending on where commodity prices go.
Audiences will be amazed by this new technology, which is helping agricultural lenders get a better handle on their customers' marketing strategies, therefore leading to improved risk management for farmers and a deeper understanding of the farm's profitability throughout the year by both the lender and farmer.
"The agriculture industry is going through radical changes. From various seed and fertilizer innovations, to hedging vehicles, growers are left guessing what to do and when. Looking at risk management, gone are the days of simply selling grain off the combine. Today, there is tremendous market volatility and grain prices are significantly lower than just a year ago. There are more choices in crop insurance, high land/rent values, and more," said Justin Kelly, president of AgYield.
"To navigate these uncertain waters, growers want something, or someone, to help them make objective, informed decisions. They want more than someone's opinion on where the market is going – they want proof, in easy to understand formats, of where they will stand after they execute a risk management strategy. This is where AgYield can help," Kelly explained.
"We're excited to be a part of American Farmer. We feel that AgYield is the most exciting advancement in risk management for growers, and therefore is a natural fit for American Farmer. We look forward to contributing to the program and assisting growers across the country with their risk management and profitability."
"This software helps to erase the uncertainty associated with agricultural lending," said Charlie Cowan, producer for American Farmer. "We are excited to educate our viewers on this amazing new software."
About AgYield:
Born from the founders of the Iowa Grain Company, AgYield is a web-based decision-making tool - unlike anything on the market - that assists growers with their risk management and grain marketing. From deciding when to sell cash, selecting the best crop insurance policy/coverage and testing their broker's recommendations, AgYield can help growers look into the future as they make the tough marketing decisions in their operations.
For more information, visit: http://www.agyield.com.
About American Farmer:
American Farmer is a breakthrough program on a mission to showcase the latest advancements in agriculture and farming. From seed to harvest, livestock and more, our producers have traveled the country covering the people, places and issues impacting all areas of farm country.
American Farmer airs Tuesdays at 8:30am ET on RFD-TV as well as Tuesdays at 12:30pm and Saturdays at 1:30pm ET on FamilyNet.
For more information visit: http://www.AmericanFarmerTV.com or call (866) 496-4065.
Media Contact:
Charlie Cowan, Senior Producer / American Farmer
(866) 496-4065 x 875 / Charlie(at)AmericanFarmerTV(dot)com