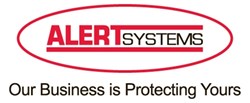 The inclusion of CCTV security systems in establishments that provide non-profit services may have equally valuable assets to protect and a duty of care to their staff
(PRWEB UK) 18 February 2014
According to an article entitled 'Thieves steal £500 from Ty Hafan charity shop' that was published in the Penarth Times on the 11th of February, 2014, Police are appealing for further information following the burglary of a safe containing £500 between the late afternoon of February the 8th and the morning of February the 10th.
The Ty Hafan charity shop supports a charity for very sick children, and a Detective from the Barry constabulary has labelled this as 'an appalling incident'. Police are appealing to anyone that might have seen anything suspicious in the area, and are asking for anyone who knows anything about a three foot by two foot beige coloured safe – this is the safe that has been stolen and has not yet been recovered.
CCTV Security specialists, AlertSystems are renowned UK providers of commercial security systems and as experts in the industry they know the significance of installing such systems on premises. A spokesperson for the company stated that:
"This particular case highlights a serious gap in commercial security; small organisations and non-profit organisations sometimes believe that they are immune to criminality, when in fact they are often in a vulnerable position. The inclusion of CCTV security systems in establishments that provide non-profit services may have equally valuable assets to protect and a duty of care to their staff, who are often good willed, volunteering members of the public.
"People are often shocked when a charity falls victim to crime, but ultimately, a crime is a crime wherever it takes place, and moral compasses aren't often present when it comes to stealing money from another person or organisation. CCTV footage can help reveal who would commit such heinous crimes; without it, Police may struggle to build evidence for a case."
AlertSystems manage and maintain over 5000 security installations throughout the UK and are specialists in providing business security solutions. Offering professional service and a complete range of security services such as monitored alarm systems, Automatic Number Plate Recognition and Avigilon CCTV security systems. AlertSystems offers effective and reliable solutions to security problems.