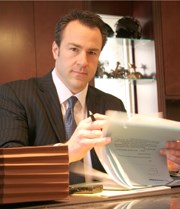 This is a serious glitch that could affect driver safety. These cars could shut off in traffic, leaving occupants vulnerable to being hit by other vehicles. Drivers who own a Cobalt or G5 should contact their dealer as soon as possible.
Lansing, MI (PRWEB) February 14, 2014
Auto accident attorney Jason Waechter wants motorists to be aware of a recall notice put out by General Motors (GM) for almost 800,000 vehicles. "These vehicles have what could potentially be a dangerous defect," he says. For over 20 years, Waechter has dedicated his legal practice to helping auto accident injury victims. He is also committed to giving back to the community and trying to prevent accidents. "With a recall like this, it's important to get the message out to as many people as possible to hopefully prevent people from being injured as a result of this glitch. Our office is here to help if someone does get hurt because of this defect, but the best-case scenario is to try to prevent these types of injuries altogether," Waechter adds. "Drivers who own one of the affected vehicles should contact their dealership immediately."
The Detroit Free Press (Freep) covered this recall in a story on February 13. According to Freep, the recall affects Chevrolet Cobalt (model years 2005 - 2007) and Pontiac G5 (model year 2007). Both vehicles are now out of production. GM is recalling these vehicles because of an ignition glitch that can cause the vehicle to shut off suddenly. If the vehicle shuts down due to the glitch and is subject to a jarring impact, like a collision, the airbags also may not deploy, according to Freep. "In other words," says Waechter, "if your car shuts off suddenly in traffic and you get hit because you stopped moving, you might not have airbag protection."
Freep is reporting that the glitch can be triggered by something as simple as a heavy keychain, so GM is advising drivers to remove any extra items from their keychain until their vehicle is repaired. Dealers will be doing the repair for free, but it was not clear at the time of writing when these repairs would begin.
####
Jason Waechter has spent two decades cementing his reputation for results. Over the years, he has specialized his practice to auto, truck, and motorcycle accidents. Jason has fought tirelessly for accident injury victims and contributed significantly to safety education and accident prevention. He has entrenched himself as one of the nation's premier lawyers, recently being named to the Michigan Super Lawyers and Michigan's Best Lawyers. If you or a loved one has been injured in an accident, call 1-800-708-5433 to speak with a lawyer who can help.