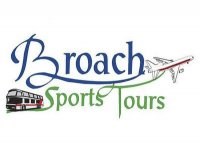 The Westminster Dog Show is truly a spectacle, one that every dog lover must experience.
Charlotte, N.C. (PRWEB) February 15, 2014
Broach Sports Tours is already looking ahead to the 2015 Westminster Dog Show with exciting discounts for those booking early.
Broach will offer free airfare to New York for those in the Eastern and Central time zones, and discounted air fare for those in the Mountain and Pacific time zones, for patrons booking before April 1.
The 2015 Westminster Kennel Club Dog Show will be held Monday, Feb. 16 and Tuesday, Feb. 17, at Madison Square Garden and Piers 92 and 94 in New York.
"We had a fabulous trip to the Westminster Dog Show this year and we are excited to go back next year and offer a variety of packages," owner Tom Broach said. "The Westminster Dog Show truly is a spectacle, one that every dog lover must experience."
Broach's basic package includes three nights hotel accommodations at either the Marriott Marquis in Times Square or the Holiday Inn Express across from Madison Square Garden; tickets to both days at both venues; transportation to all shows; guided bus tour of New York City; Westminster Kennel Club program and Broach Sports Tours hosts.
The basic package is priced at $1345 per person double occupancy and $1794 single at the Marriott Marquis, and $1199 per person double occupancy and $1540 single at the Holiday Inn Express.
Broach is also offering a Pre-Tour Option that includes an extra night hotel accommodations and Broadway shows on Saturday night and Sunday afternoon. Add $475 per person double or $645 single for the Marquis, or $405 double and $525 single for the Holiday Inn Express.
"This year the pre-tour option was more popular than the basic package," Broach said. "We saw Jersey Boys and Motown the Musical, and both were fabulous. It's definitely worth your while to come in a day early, get situated, and take in two great Broadway musicals."
Broach Sports Tours, located in Charlotte, N.C., has been a leader in the group and sports travel industry for the last 21 years. It hosts more than 25 Major League Baseball tours during the summer, and also offers group travel packages to the Masters, Wimbledon, French Open, U.S. Open golf and tennis tournaments, and Ryder Cup.
For more information, contact Melanie Smith at 800-849-6345 or visit our website at http://www.broachsportstours.com.