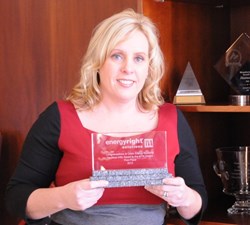 Jennifer McCue, Orion Vice President of Promotions and Sales Opportunities, accepts the EnergyRight® Solutions Award on behalf of Orion Energy Systems as the PPN Member saving the most kWh in the Middle Tennessee District.
Manitowoc, WI (PRWEB) February 19, 2014
Orion Energy Systems is honored to be awarded the 2013 TVA EnergyRight® Solutions Award for most kilowatts saved in the Middle Tennessee District.
"Orion Energy Systems saved customers 12,926,718 kWh in 2013! We appreciate your continuous support to help customers save energy and reduce their carbon footprint," said Melissa Mobley, National and Key Account Rep for EnergyRight® Solutions.
The EnergyRight® Program is an energy efficiency initiative offered by the Tennessee Valley Authority to promote the wise and efficient use of electricity. The mission of EnergyRight® Solutions is to develop and manage energy efficiency programs for end-use customers working with a prescreened and qualified Preferred Provider Network (PPN).
PPN is a network of expert trade allies of which Orion is a member. PPN members provide sound advice and best options for investing in energy efficiency and guide end-use commercial and industrial customers through the application process.
"As Orion continues to establish its leadership position in energy efficiency, we are humbled to help customers achieve such significant savings," remarked Orion Mid South Territory Manager Mike Ware. "The results speak for themselves. When customers deploy energy efficient technology that produces more light output for less energy input they are able to invest in their futures, provide better and safer work environments for their employees and are great stewards for their communities."
As a Preferred Provider Network Member, Orion works with TVA EnergyRight® Solutions to achieve maximum incentives for customers who complete qualifying energy projects.
###
Orion Energy Systems, Inc. (NYSE MKT: OESX) is the industry's premier provider of energy retrofit solutions – consisting primarily of high-performance, energy-efficient lighting platforms, intelligent wireless control systems and direct renewable solar technology for commercial and industrial customers – without compromising their quantity and quality of light. Since 2001, Orion has implemented its energy management systems at thousands of companies – including 165 of the Fortune 500 – displacing more than 874 megawatts, saving customers more than $2.4 billion and reducing indirect carbon dioxide emissions by 19 million tons. Visit http://www.oesx.com.