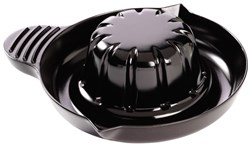 Melamine free MicroPure is an exciting new technology for both designers and retail consumers alike.
West Chicago, IL (PRWEB) February 16, 2014
Allstar Products Group (APG) of Hawthorne, New York, distributors of the Perfect Bacon™ Bowl, have aggressively promoted their unique cooking product with dozens of 'As Seen on TV' cable television spots. The net result of APG's marketing strategy is that the Perfect Bacon™ Bowl has become an internationally recognized kitchen device with millions of units shipped.
The Perfect Bacon™ Bowl is manufactured using the highly engineered food safe composite MicroPURE. MicroPURE is a new FDA/EU compliant food contact safe molding material produced by the Engineered Composites division of Citadel Plastics (headquartered in West Chicago, IL). MicroPURE products can be used in a toaster, microwave or conventional oven and are dishwasher save. Safe up to 400º F, MicroPURE will not melt, off-gas or leach chemical ingredients when exposed to heat or microwave energy. This innovative material is 100% melamine and BPA free. MicroPURE is impact resistant, highly rigid and can be produced in a wide range of contemporary colors and earthen looks.
The Perfect Bacon™ Bowl is both injection and compression molded for APG in the U.S. and China. Citadel Plastics supplies APG's molders MicroPURE material from compounding facilities located in West Chicago, IL, Perrysburg, OH, Juarez, MX and Dongguan, CN.
For more information about the Perfect Bacon™ Bowl, visit http://www.facebook.com/perfectbaconbowl.
About Engineered Composites Division of Citadel Plastics, Inc.
Citadel Plastics is a leading global compounder of thermoset and thermoplastic resins. Its two primary divisions are Engineered Composites (formerly known as Bulk Molding Compounds, Incorporated), the world's largest supplier of thermoset bulk molding materials, and thermoplastics (formerly known as The Matrixx Group), a leading thermoplastic compounder. Citadel Plastics serves the food service, appliance, housewares, electrical and automotive industries. Citadel Plastics' companies have a combined workforce of more than 600 employees across 13 facilities in six countries. Additional information is available at http://www.bulkmolding.com.
About Allstar Products Group
Founded in 1999, Allstar Products Group (APG) has grown to become a leading consumer products company that uses direct response advertising to maximize the potential of innovative, quality products and sustainable brands from the first phase of product development. APG is a privately owned company. For further information about APG, visit http://www.allstarproductsgroup.com.
Citadel Plastics
Len Nunnery
Executive VP Global Key Accounts, Engineered Composites Division, Citadel Plastics
(630) 377-1065
lnunnery(at)citadelplastics(dot)com