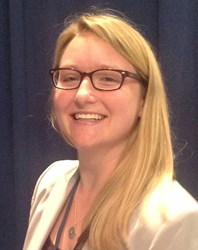 We are extremely proud to have Maggie on our team.
Philadelphia, PA (PRWEB) February 17, 2014
Gilbane Building Company is pleased to announce that Margaret Reed, LEED AP, Assistant Project Manager and Regional Quality Manager based in Gilbane's Philadelphia office, was named to ENR MidAtlantic's Top 20 Under 40 List of 2014. Each year, ENR MidAtlantic recognizes the merits of young leaders in design and construction, and their contributions to the industry and the community.
During her 10-year career with Gilbane, Reed has shown consistent leadership within the company and the industry. She has contributed to many notable projects in the region including Einstein Medical Center Montgomery, Penn State's Dickinson School of Law, and SAP Headquarters. Reed has also been a key contributor to Gilbane's sustainable initiatives, and actively promotes sustainability through education and training programs.
"I believe that the highest compliment is to be nominated by your peers and then to have the industry recognize your accomplishments. I take great pride in knowing that Maggie's efforts are now very public," said Greg Dunkle, Gilbane senior vice president. "Maggie exemplifies Gilbane's core values of dedication to excellence, discipline, teamwork, and integrity. She is a true leader ‒ highly regarded by her colleagues for her contributions to our sustainable programs and for her dedication to the active development of the company's sustainable training curriculum nationwide. We are extremely proud to have Maggie on our team."
Nominees were judged by an independent jury based on career experience, industry leadership, community service, and other factors. For a complete list of the 2014 honorees, visit http://enr.construction.com/bonus_regions/midatlantic/2014/0217-ENR-MidAtlantic-Top-20-Under-40.asp.
About Gilbane Building Company
Gilbane provides a full slate of construction and facilities-related services – from pre-construction planning and integrated consulting capabilities to comprehensive construction management, close-out and facility management services – for clients across various markets. Founded in 1873 and still a privately held, family-run company, Gilbane has more than 50 office locations around the world. For more information, visit http://www.gilbaneco.com.
Gilbane has been providing construction management services in Pennsylvania since 1958 and has served clients including University of Pennsylvania Health System, Pennsylvania State University, Temple University, Albert Einstein Healthcare Network, and the City of Philadelphia. Gilbane is an active participant in Rebuilding Together Philadelphia and the ACE Mentor Program.