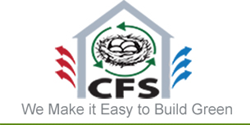 Families can expect to save up to 70% a month on their utility bills.
Monticello, Arkansas (PRWEB) February 21, 2014
Ask any home owner if saving money on their energy bill is something they're interested in, and most, if not all, will say yes. Until now, actually having a safe, energy efficient home at an economical price, has been what many in the industry describe as "what dreams are made of."
But thanks to CFS Green Homes, those dreams can become a reality, now that the company has entered into a partnership with another Arkansas company, the Reata Foundation, to produce a technologically advanced building system resulting in an ultra energy efficient residential home for the future of residential house building.
In fact, company representatives with CFS Green Homes say that compared to conventional wood frame houses, the engineered fabricated home is more energy efficient, has less noise and drafts, making for a quieter, more comfortable, and healthier living environment for the family.
CFS Green Homes' ability to provide energy efficient homes could prove to have perfect timing as industry experts and recent trends predict the demand for more energy efficient homes will continue to increase over the next decade.
A CFS Green Homes spokesman said the company was looking for something that was economical, energy efficient and easy to build.
It took multiple attempts to get the structures to the point where they were comfortable taking the idea public, but now it's here.
In fact, families can expect to save up to 70% a month on their utility bills.
"For the average family that is a substantial amount of savings," the spokesman said.
CFS Green Homes is responsible for conducting the pre-fabrication portion of building. When construction starts, after the foundation has been laid, CFS can usually have the outer walls and roof of the structure up in a matter of days.
"Through the fabrication process that we have, erecting the walls and roof is like putting together Legos," the spokesman said. "All the necessary adjustments and installations of the steel slats are done at the modular housing plant in Monticello. Once we are on site, everything just snaps together."
So how do they know when they get on site that everything will fit together properly?
"Before we take the materials to the site, we lay them out and put them together at the plant," the spokesman added. "That is our way to be sure that we have all the necessary parts and that everything was fabricated correctly."
For more information, please visit: http://www.cfsgreenhomes.com/green-building and http://www.cfsgreenhomes.com/blog/.
About CFS Green Homes
Many homeowners have desired to build energy-efficient homes, only to find that they can't finance the cost. CFS Green Homes has developed a building system that is efficient for the builders with a budget that is just right for the homeowner.
Now you can own an affordable and sustainable home. Our Eco-Friendly homes cost the same as traditional stick-built homes, yet they save you up to 70% in energy costs.
All of our Eco-Friendly homes are durable and resistant to mold, moisture, and insects. They are appraised as conventional homes and can be financed with a standard mortgage. Best of all they can be built much faster than a traditionally constructed home by our professional home builders.
SOURCE: CFS Green Homes
###