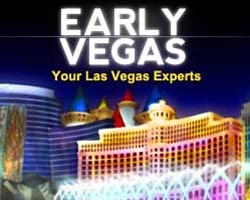 Bodaciously romantic restaurants, dancing fountains, bubbly champagne, world-class entertainment, and an electric vibe - who could ask for more?
(PRWEB) February 14, 2014
Valentine's Day in Las Vegas is all about romance, fun and excitement. Combine a world class resort hotel with some Cirque du Soleil entertainment, dancing fountains, a little roulette, some blackjack or poker, intimate time with a one-armed bandit, incredible food, chocolate strawberries, bubbly champagne, and bodaciously cool nightlife, and the blood starts to flow, sparks fly and your significant other thinks you are the best thing since sliced bread.
Today, Valentine's Day 2014, EarlyVegas.com (http://www.earlyvegas.com) released a list of hot hotels, activities, things to do and the Top 20 Romantic Valentine's Day restaurants for this Valentine's Day weekend in Vegas.
Shows & Entertainment
1 - Cirque du Soleil's Zumanity: Zumanity by Cirque du Soleil is fondly referred to as "The Sensual Side of Cirque du Soleil" and is a sensual Las Vegas show that matches perfectly with a Valentine's Day mood. Zumanity plays at New York New York and is a regular favorite for couples visiting Las Vegas. Zumanity is currently offering a promo code deal that includes 2 show tickets + a Park Avenue Room at New York New York Hotel & Casino. See EarlyVegas.com for more details.
2 – Rock of Ages – Why not? Take a walk down memory lane and see what everyone in NYC on Broadway has been talking about. Rock out to the greatest bands of the 80's and enjoy fin characters and a great story. Promotional tickets from $63 now available.
Romantic Valentine's Day Activities
1 - Venetian Gondola Rides: For those that can't afford a trip to Italy, the Venetian is a solid substitute on Valentine's Day. A romantic evening at the Venetian can include walking around the many shops and taking a serenaded gondola ride in the hotel's Venice-style canal. Taking a gondola ride for Valentine's Day in Las Vegas will cost less than $20 per person.
2 - Las Vegas Strip Helicopter Tour: See the Strip in style. The Vegas Strip is an amazing thing to see, especially from the air. For Valentine's Day 2014 in Las Vegas, book a Strip helicopter tour and really wow your loved one. The tour includes a champagne toast and a 12-minute flight over the Vegas Strip and downtown at night. Check EarlyVegas.com for availability.
Romantic Stuff to Do on a Budget
1 - Walk to Bellagio Fountains, what else? Valentine's Day in Vegas does not require a big budget. And seeing the Bellagio Fountains does not require a stay at the luxurious Bellagio – although Bellagio redefines luxury to the point you may throw any thought of a budget out the door when you set foot inside. Attractions like the Bellagio Fountains are both romantic and easy to do since Bellagio is located in the center of the Strip.
2 - After you've seen the Bellagio Fountains, keep strolling (on Valentine's Day it is called "strolling", not "walking") along the Strip and enjoy other things to do like the Sirens of TI at Treasure Island or Volcano Eruption at the Mirage. The Fremont Street Experience is also a romantic and free thing to do although it does require transportation to Downtown Vegas.
Romantic Dinner
1 - Valentine's Day Dinner: Valentine's Day in Las Vegas isn't complete without a proper dinner. Alize at the Top of the Palms Casino Resort is the clear cut #1 choice with romantic views of the Strip that will make this Valentine's Day dinner one to remember. The 2014 menu features a four course meal with the first course consisting of choices – Smoked Salmon, Osetra Caviar, Salmon Mousse, Fried Egg Yolk, Salmon Tartare, Pickled Vegetables, OR, Terrine of Foie Gras, Caraway Crisp, Mango, Balsamic Vinegar, OR, 17 Greens and Herbs Salad -­‐ Carrots, Fennel, Cucumber, Tête de Moine Cheese, Lemon Shallot Vinaigrette. WOW!
2 - Try Sugar Factory at Paris Hotel and Casino for a cheaper Valentine's Day dinner in Las Vegas with a cynical twist.
The Top 20 Romantic Restaurant choices in Vegas this Valentine's Day weekend include:
1. Alize at the Top of the Palms Casino Resort
2. Eiffel Tower Restaurant at Paris Las Vegas
3. Top of the World at Stratosphere
4. Joel Robuchon Restaurant at MGM Grand
5. Andre's at Monte Carlo
6. Aureole at Mandalay Bay
7. Picasso at Bellagio
8. Sage at Aria
9. THE Steak House at Circus Circus
10. TENDER Steak & Seafood Restaurant at Luxor
11. miX at THEHotel at Mandalay Bay
12. Sage at City Center
13. Hugo's Cellar at Four Queens
14. Le Cirque at Bellagio
15. Comme Ca at The Cosmopolitan
16. Twist at Mandarin Oriental
17. Bartolatta Ristorante di Mare at Wynn
18. Mon Ami Gabi at Paris
19. Twist by Pierre Gagnaire at City Center
20. The Barrymore at the Royal Resort
Where to stay:
1 - Palms - Palms has a special Bottles of Fun and 20% off Room Palms Package and a Suite Life Package perfect for Valentine's Day weekend. It also touts great food at Alizé, one of the most romantic restaurants in Vegas offering guest a spectacular view while dining on gourmet delicacies. NOVE is a romantic Italian restaurant and N9NE Steakhouse is also a terrific option and a hot spot for celebrities.
More hotel deals on the Strip this weekend:
2 - Aria – Offering a VIP Package and a Spa Experience Package.
3 - Mandalay Bay – a S'mores Fun Package and a Fall into Winter Package
4 - Circus Circus – a nice AAA Discount deal plus a $20 Food and Beverage Package.
5 - Hard Rock – a 30% off SALE and a Room and Show Package.
6 - Monte Carlo - $35 Food and Beverage Credit Package and Winter Getaway Package
7 - Vdara - $50 Food and Beverage Credit Package and a Success Package
8 - Signature at MGM Grand – Up to 40% off…
9 - Travelodge – 15% off for 2 Nights or more.
For a full list of this weekend's hotel offers and packages, visit EarlyVegas here http://www.earlyvegas.com/promo_codes.html.
About EarlyVegas.com:
EarlyVegas.com is an authority on how to save money and get the best value when planning travel to Las Vegas. EarlyVegas.com searches the web for the best packages, specials, promotions, deals, and promo code offers that help travelers save and get the most value when booking shows, tours and hotels in Las Vegas.