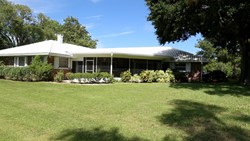 These types of properties are considered gems in my business — ample square footage, lots of land, lake and golf course views — it's a no-brainer!
Tarpon Springs, FL (PRWEB) February 20, 2014
Strategically positioned in the middle of three lots, on .323 acres, this Tarpon Springs Golf Course home allows for large outdoor gatherings or even the addition of a pool. Features include brick construction, three bedrooms (two master suites), three bathrooms, a two-car garage, tile roof, storm shutters, a fireplace and a modern-style open floor plan — truly an investor's dream opportunity.
This 2391-square foot home's prime location is key. It is only five minutes from the nearest beach, six minutes from the nearest hospital, a few blocks away from historic downtown Tarpon Springs, just minutes from several marinas that lead to the Gulf of Mexico, and a little over a half an hour from Tampa International Airport and downtown Tampa. If you are unfamiliar with the little fishing town of Tarpon Springs, you will be sure to fall in love with it when you visit. Draped in rich Greek history, Tarpon Springs is a family-friendly town that boasts fantastic food and a relaxing atmosphere.
Aggressively priced in the 300s, this home will move fast. To schedule a viewing or make an offer, please contact lead realtor, Brent Laugesen: 727-735-1510
Address: 1011 Beaver Dr. Tarpon Springs, FL
For a virtual tour of this home, click HERE.
About Smart Luxury Real Estate Experts:
The world of real estate is an exciting, challenging and rewarding one. Purchasing or selling your home will often be one of the most important decisions you will ever make. If you need to find a realtor, Smart Luxury has so much more — they have a team of experts that will guide you through every step.
Using cutting edge technology and an impressive network of time-tested professionals, Smart Luxury Real Estate Experts can help you find your dream home and/or expose your current home to the market by utilizing many creative solutions. Through their innovative approach and by leveraging the power of being an exclusive affiliate of Christie's International Real Estate, their team is totally connected.
Smart Luxury Real Estate Experts proudly serves the Tampa Bay area and surrounding areas.