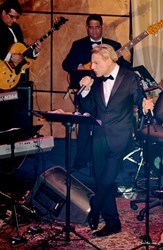 (PRWEB) February 16, 2014
Jack Crooner to pay tribute to Frank Sinatra at the Miami Blues Restaurant in Miami Beach, Florida at 7 p.m. on Wednesday, February 19th, according to the spokesperson for Miami Blues Band.
Jack Crooner found his inner voice on a vacation trip in 1975 when his father took him to a sold out theater in Cesar's palace to see the one and only Frank Sinatra, right then and there he met the man he wanted to become. Since then he has pursued his love of music and has played with some of the best in the country.
Miami Blues Band is a 14-man big band; the band covers Sinatra and the 50's big band era. The band takes the audience back in time when music of Sinatra, Dean Martin, Bobby Darin, Gene Kelly, Louis Armstrong and Bing Crosby dominated the charts.
Miami Blues Restaurant, located at 5445 Collins Ave., is one of the hottest night clubs in South Florida. Their mission is to promote the essentials of artistic expression. They are strong believers that artists are bred, not born and everyone carries their own art within.