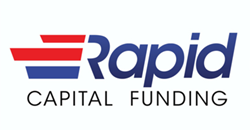 Miami, FL (PRWEB) February 16, 2014
Rapid Capital Funding, one of the fastest-growing companies in the small-to-medium-size business financing industry, has added Scott I. Kaplan to its expanding leadership team. Kaplan will take on the role of Executive Vice President - Chief Credit Officer, effective immediately.
Kaplan brings strong knowledge of the financing industry and products, and will help continue to build and manage the infrastructure to support RCF's growth. He has extensive experience in transactions and operations, along with debt and equity offerings, lending and principal investments. Kaplan spent the last year as Vice President at Veritas Financial Partners, and prior to that, he was Managing Director at Vaupen Financial Advisors.
"Our growth has been phenomenal," said Craig Hecker, CEO of Rapid Capital Funding. "And, Scott, with his 20-plus years of experience in the investment banking and lending fields, was the perfect fit for this new position. We have experienced 100% growth during the last six months, and we are on track to grow 200% in the next 24 months. Scott brings so much background and familiarity within the industry. He has the ability to scale up our underwriting infrastructure and help to increase sales volume. I'm thrilled to have him on board."
Technology has become a key focus for Rapid Capital Funding as the company continues to grow. Automation and ease-of-use can help make the borrowing process much faster and much clearer to our customers. "Scott can jump head-first into this series of projects," said Hecker. "Borrowers come to us with a time-frame they'd like to stick to, and we are committed to make that happen for them. Scott has the product and process knowledge to quickly build the infrastructure for these improvements."
Kaplan is a graduate of Duke University with a BA in Public Policy.
Rapid Capital Funding was founded in 2008. The company is committed to using the finest technology and data processes to assess the financial viability of small businesses and deliver capital to this market, which is often undeserved by traditional lenders. RCF's team of experienced financial executives focuses on businesses and their overall performance and growth, assisting owners in addressing their cash needs. For more information, visit