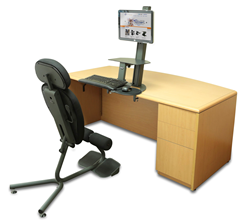 HealthPostures was responsive and ahead of the competition.
Burnsville MN (PRWEB) February 25, 2014
HealthPostures,a leading designer of sit/stand solutions, is pleased to announce that ARC Ergonomics, a long term HealthPostures distributor, has been named as its Ergonomic Dealer of the Year. Based out of San Diego, California, ARC Ergonomics is a major supplier of ergonomic products and assistive devices. The supplier has been distributing HealthPostures sit/stand solutions for more than 10 years.
ARC Ergonomics won the award for demonstrating unmistakable success and dedication to HealthPostures and the advancement of sit/stand ergonomics. The distributor is one of more than 25 HealthPostures distributors, making being announced Dealer of the Year increasingly impactful. ARC's owners, Mary and Bob Tripp, say that they became HealthPostures dealers because, "HealthPostures was responsive and ahead of the competition with their original Stance Angle chair." They continue with, "HealthPostures fit a very unique marketplace.  They were early in the sitting and standing workstation arena and proved to be a reliable vendor."
Specific HealthPostures ergonomics products the supplier sells are the TaskMate Go, a sit stand desk that supports single and dual monitor workstations, and Stance chairs. Stance chairs like the Stance Move EXT 5050 are designed with a backless supportive frame to allow for forward sloped sitting, kneeling and assisted standing. Both products are built to relieve back and neck pain, increase worker energy levels and to help employees be more active, burning more calories and becoming more productive.
Of the two sit stand products, ARC Ergonomics shares that the TaskMate Go is its biggest seller. Reasons that the products sell well for the long term supplier has to do with customer response. According to the supplier, "Customers like having the ability to alter their positions, giving them more mobility so they don't have to sit all day." The supplier also says that customers tell them that because of the sit stand solutions "They can continue to be productive throughout their workday even though they are standing."
Other factors that contribute to the supplier being HealthPostures most successful, long term distributor are the fact that ARC Ergonomics is a specialty firm, only selling ergonomics and assistive products. Among the supplier's top customers are government, medical organizations, bio tech firms, call centers and court systems. When asked why senior leaders at these organizations consider equipping their employees with sit stand solutions a priority, Mary, one of ARC Ergonomics' owners, reveals that, "I believe that many of the people think that it's a healthier environment when people can sit and stand alternatively during the workday.  Most of the people who buy from us also understand that they also receive higher productivity and less absenteeism." 
About HealthPostures
HealthPostures LLC (https://healthpostures.com) has been designing and manufacturing ergonomic sit stand solutions since 1996. Part of the company's mission is to "strive to provide quality products that will help transform your sedentary life so you have a healthy way to work." Office solutions sit stand products Health Postures designs and manufactures include dual monitor sit stand work stations, adjustable mouse stands, dual monitor arm accessories, Stance move seat extensions, industrial surface Taskmates and Stance Move chairs.
Contact:
HealthPostures LLC
14310 Ewing Avenue South, Suite 100
Burnsville, MN 55306
800-277-1841
https://healthpostures.com
About ARC Ergonomics
ARC Ergonomics (http://www.arcergo.com) was founded in 1991. The company is a leading supplier of high quality ergonomic products and assistive devices, products it predominantly sells to businesses, government agencies and individual consumers. Products the company sells are designed to reduce physical stress, pain and discomfort employees experience while working at computer desks. ARC Ergonomics has been distributing HealthPostures sit stand solutions for more than 10 years.
Contact:
ARC Ergonomics
7434 Jackson Drive
San Diego, CA 92119
800-875-7001
http://www.arcergo.com