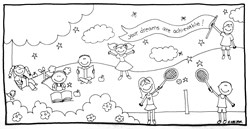 Washington (PRWEB) February 17, 2014
An energy company, a public relations firm, two apparel lines, an artist and a professional photographer have come together this Valentine's Day to show their love of children and deep belief in the power of books.
Starting today, and running through March 2, Dr. Seuss' birthday, these six companies will donate $1 for every new like on their Facebook brand pages to The Heart of America Foundation, which will use the funds to buy books for children in Newport News and Richmond.
Since 1997, the Washington D.C.-based Heart of America Foundation has provided children living in poverty with more than 3.5 million library and take-home books. Their unique approach to helping promote volunteer service and literacy has led to engaging volunteers in more than one million hours of service to communities nationwide.
The most successful way to improve the reading achievement of low-income children, the foundation reports, is to increase their access to print.
Phillips Energy, Consociate Media and Sara Harris Photography's Facebook donation campaigns will support An Achievable Dream Academy in Newport News, Va.
An Achievable Dream is a unique partnership between Newport News Public Schools, the City of Newport News, and the local business community to give our students who are at risk of failure in school due to socioeconomic factors, a chance to succeed. Students in kindergarten through 12th grade are offered a quality education in a nurturing environment as well as the opportunity to develop meaningful relationships with caring adults.
An Achievable Dream Academy provides social, academic and moral education to its students.
Be the Bay, the Hardwood Denim Company and Wilton Cottage & Garden are supporting Chimborazo Elementary School in Richmond, Ca. Home of the Jaguars, Chimborazo provides an environment that is safe, inviting and conducive to learning.
The mission of Chimborazo Elementary School, as a foundation for infinite possibilities, is for highly qualified, competent and passionate educators to prepare all students to become productive, enthusiastic, inquisitive and critical thinkers who have good moral values and are inspired through endless possibilities in a global society, supported by families and communities.
"They are a beacon of light in Richmond's East End and shine on what is right," wrote Heart of America on its web site.
Artist Andrea Weiser of Happy Artwork for Children, will support each school with a custom painting designed specifically for the children she hopes will find love in the books and happiness as their increased access to them.
Visit this page to LIKE the companies' Facebook pages and learn more about The Heart of America Foundation.
ABOUT THE COMPANIES:
PHILLIPS ENERGY
Founded in 1946, Phillips Energy remains upper Tidewater, Va.'s top provider of heating oil, on- and off-road diesel, gasoline, propane, dyed and clear kerosene, and lubricants.
Phillips Energy is a leader in alternative fuels and is able to meet the energy and service needs of homes and businesses in Gloucester, Mathews, and York Counties, the Williamsburg area, Northern Neck and Virginia Peninsula.
CONSOCIATE MEDIA
Consociate Media believes that in every business lies a story, and through that story they can reach new customers, inspire positive change and reach their goals. stories are the most powerful way to reach people and inspire change.
Consociate Media, a full service communications and public relations firm, specializes in working with business owners to tell their stories across a wide range of new and traditional media.
Telling those stories can be just that – writing for web content, Blogs, press releases and more. In a communications world where content is king, having fresh, unique and relevant content should be at the heart of all storytelling.
But it's also helping businesses develop an overarching strategy to connect to a larger audience. Those services can range from establishing and maintaining a social media presence, building an editorial calendar, strategic messaging development, market research and more.
BE THE BAY
The Chesapeake Bay unites us all, whether it's through the seafood we eat or the recreation we enjoy. That's why Be the Bay, a casual apparel company, uses its designs to promote all we love about Bay waters.
From PEACE LOVE OYSTERS to PEACE LOVE BLUE CRABS and original drawings of sail boats, deadrise watermen vessels and more screened or embroidered on everything from t-shirts to beach bags and hats, Be the Bay encourages everyone to "live it, love it, take care of it."
WILTON COTTAGE & GARDEN
Wander into the Wilton Cottage & Garden just off of the corn field-lined streets of Hartfield, Va. and you'll find yourself pleasantly lost in the home décor and gift shop, and enthralled with the floral and garden greenhouse.
Stay long enough, though, and you'll get more than you pay for.
You'll hear a story.
The story of a family who started the building off as a grocery store, post office and gas station.
The story of a mother who turned it into a garden shop, of a son who keeps it running for the next generation and of a sister who's helping return the building to its roots, offering fresh and homemade food from within its walls.
SARA HARRIS PHOTOGRAPHY
An accomplished professional photographer with an engaging human touch, Sara Harris brings out the best in her subjects from the backyard to the stage. Her imagery has been featured on billboards, online and print media such as People, Garden & Gun, Virginia Living and The House & Home, and by industry leaders such as the National Association of Professional Child Photographers.
In addition to studios in Virginia and Colorado, Sara shoots on location for families, celebrities and corporate clients around the world. Her sessions have included Virgin Group Chairman Sir Richard Branson, musical groups Maroon 5 and Matchbox Twenty, movie producer James Cameron, former GE Chairman Jack Welch, and the wedding of actress Ashley Williams, shot in the home of country music star Brad Paisley.
http://www.saraharrisphotography.com
HAPPY ARTWORK FOR CHILDREN BY ANDREA WEISER
It's the simple things in life that Andrea Weiser finds the most beauty in. Tiny hearts surrounding a cupcake. Sparkles catching the light. Sweet smiles from a child. And the beauty and happiness of the special moments in life.
Andrea Weiser is an artist who specializes in creating custom paintings for places where children live and play. She paints with acrylics on canvas and then hand embellishes a beautiful sparkle to every work, including her limited edition prints.
THE HARDWOOD DENIM COMPANY
Hardwood Denim sees lots of life left in jeans and clothing, even after their original owner is ready to move on. Hardwood Denim in the best online source for like new jeans and clothing. From vintage to designer and all types in between, Hardwood Denim finds the best pieces and filters out the duds, making your online denim shopping experience easy. Hardwood Denim purchases and consigns, too.
ABOUT THE HEART OF AMERICA FOUNDATION:
The Heart of America Foundation, a national nonprofit headquartered in Washington, D.C., uniquely promotes volunteer service and literacy. The organization inspires acts of service and a love of reading by building community and providing children in need with the tools to read, succeed and make a difference. Committed to education and volunteerism, The Heart of America Foundation engages volunteers through putting books into the hands of children who need them the most. Through the Books From The Heart and READesign programs, The Heart of America Foundation revitalizes school libraries and reading spaces in under-resourced communities into vital and vibrant centers of learning that become the heart of a school. Since 1997, The Heart of America Foundation has provided children living in poverty with over 3.5 million library and take-home books. And, the organization has engaged volunteers in more than one million hours of service to communities nationwide.