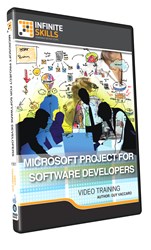 Learn Microsoft Project for Software Developers at your own pace.
(PRWEB) February 17, 2014
Software training firm Infinite Skills Inc. this week introduced its "Microsoft Project for Software Developers Tutorial," an advanced-level course applying Microsoft Project's tools for organizing, tracking, and analyzing project parameters to the software development process.
Microsoft Project is a project management program with tools that allow project managers to plan projects, allocate resources, track progress, manage a budget, and analyze efficiency.
Infinite Skills' Microsoft Project for Software Developers examines Microsoft Project's tools from the perspective of a software developer, demonstrating how the program can be used to plan, manage, and analyze the development process.
Microsoft Project for Software Developers Tutorial - Streaming Video
Course author Guy Vaccaro has more than 15 years' training experience with Project and the entire Microsoft Office Suite. With training experience in classroom environments, manual writing, and teaching in computer-based formats, Vaccaro is an accomplished teacher with a friendly and business-savvy teaching style perfect for teaching students and professionals hidden tricks and tips as they learn fundamental concepts.
Here, Vaccaro explains how to use many of the most powerful functions in Microsoft Project to create a reference for your development projects.
He begins by explaining the project file, creating a rough storyboard, creating the initial file and establishing properties, and adding phases and section headings.
The course then explores tasks in Microsoft Project, explaining how to create and manage tasks, use milestones and work with task relationships, and integrate tasks into the overall project goals with constraints and deadlines and more.
Vaccaro also teaches how to work with resources, adding project teams and registering, assigning, and reviewing resource costs.
Closing chapters help users set up a calendar and explore the timeline view, and work with tracking features, creating a baseline to measure progress, updating task progressions, and producing Gantt charts.
"Microsoft Project really provides a framework for you to be able to analyze your projects in detail. Even something less tangible, like a software program, needs to be planned out so that timescale and cost can be closely controlled."
Free demo videos and a full list of course contents can be found on the Microsoft Project for Software Development training page of the Infinite Skills website:
http://www.infiniteskills.com/training/microsoft-project-for-software-developers.html
Infinite Skills offers its Microsoft Project for Software Developers Tutorial either as a DVD or a direct download from the company website at a retail price of $49.95. All titles and formats are compatible with Mac and Windows operating systems. Shipping is available around the globe. Additionally, Infinite Skills tutorials are supported by project files which correspond to examples in the videos, allowing users to work alongside experienced instructors right on their computer or iPad.
About Infinite Skills Inc.
A leader in the field of software training, Infinite Skills designs its courses on a task-oriented model, teaching complex skills by providing hands-on examples and guiding users as they carry out essential functions. Infinite Skills offers a wide range of software titles available as DVDs, digital downloads, and in iPad editions. Infinite Skills now offers a subscription service, providing access to all its training content for a monthly fee, keeping with company's aim of delivering professional training to customers anywhere they want to learn.