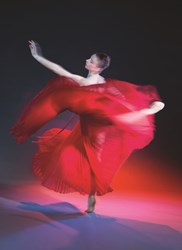 "Our March programming offers two very different looks at this great Company," Artistic Director Roy Kaiser says. "Carmina Burana and Stravinsky Violin Concerto are modern and sleek, while Coppélia is 100% family fun!"
Philadelphia, PA (PRWEB) February 18, 2014
Pennsylvania Ballet presents two diverse programs at the Academy of Music next month: the return of John Butler's Carmina Burana and the Company Premiere of George Balanchine's Stravinsky Violin Concerto, presented by Alger Management, March 6-15; and the family-friendly Coppélia, presented by Humana Foundation, March 8 and 16.
"Our March programming offers two very different looks at this great Company," Artistic Director Roy Kaiser says. "Carmina Burana and Stravinsky Violin Concerto are modern and sleek, while Coppélia is 100% family fun!"
In celebration of its 50th Anniversary, Pennsylvania Ballet presents a special encore presentation of John Butler's Carmina Burana. A signature of the Pennsylvania Ballet repertoire since the 1960s, Butler's Carmina remains contemporary and fresh today. The Pennsylvania Ballet Orchestra unites with The Philadelphia Singers and ChildrenSong of New Jersey to perform the famous Carl Orff score. The program opens with the Company premiere of George Balanchine's Stravinsky Violin Concerto. One of Balanchine's black and white ballets, this work showcases its choreographer and composer's legendary collaborative relationship.
For just three performances, the Company presents ballet's greatest comedy, Coppélia. Perfect for the whole family, this charming story of a toymaker, his doll, and a young couple in love finds new fans in every generation. Coppélia features music from Leo Delibes and vividly imagined sets and costumes.
And for one performance only – Mayor Michael A. Nutter joins the cast of Coppélia! Mayor Nutter is scheduled, ever appropriately, to play the role of "The Mayor" on Sunday, March 16 at 2 p.m. All casting is subject to change.
Adding to the Coppélia excitement, Pennsylvania Ballet follows its Philadelphia engagement with a tour to the prestigious National Arts Centre in Ottawa, Canada. Tickets to performances of Coppélia in Ottawa, May 1-3, 2014, are available at http://nac-cna.ca/en/dance/event/5476.
Tickets to both Carmina Burana and Coppélia at the Academy of Music are on sale now, with prices ranging from $30-$125. Tickets are available online at paballet.org, by phone at 215.893.1999, and in person at the Kimmel Center Box Office.
Carmina Burana performances at the Academy of Music:
Thursday, March 6, 7:30 p.m.
Sunday, March 9, 2 p.m.
Thursday, March 13, 7:30 p.m.
Friday, March 14, 7:30 p.m.
Saturday, March 15, 2 p.m. & 8 p.m.
Coppélia performances at the Academy of Music:
Saturday, March 8, 2 p.m. & 7 p.m.
Sunday, March 16, 2 p.m.
Principal Dancer Ian Hussey will be the guest speaker at the next Conversations with Pennsylvania Ballet – a free, public discussion series – on Monday, March 3 at 6:30 p.m. at the Philadelphia City Institute Library at 19th & Locust Streets.
Join us on Sunday, March 9 at 4 p.m., after the Carmina Burana performance, for a book signing and Q&A with American Ballet Theatre Soloist Misty Copeland, in partnership with The Oracle Group, at the DoubleTree by Hilton Hotel. Ms. Copeland, ABT's first African American soloist in two decades, will read from her inspiring new memoir "A Life in Motion: An Unlikely Ballerina." Tickets to the event and discounted books may be ordered at http://theoraclegroup.ticketleap.com/misty-copeland-event. A portion of the proceeds will benefit Pennsylvania Ballet.
Toast the performances with a FREE Pre-Show Talk on Friday, March 14 at 6:30 p.m. at the DoubleTree by Hilton Hotel at Broad & Locust Streets, open to all Carmina Burana and Coppélia ticketholders. Sip a complimentary cocktail and get behind-the-scenes stories from the rehearsal studio. Guest(s) to be announced.
All families are invited to the Coppélia Children's Party on Sunday, March 16 at noon at the DoubleTree by Hilton Hotel, just across the street from the Academy of Music. Guests will enjoy lunch, crafts, and face-painting before the 2 p.m. performance of Coppélia. Children are encouraged to bring their favorite doll along for the fun! To purchase ticket and party packages, starting at $75, please contact Group Sales Manager Arajua Backman at 215.587.6921 or abackman@paballet.org.
Connect with us! Follow Pennsylvania Ballet on Twitter, Facebook, and YouTube to go behind-the-scenes anytime, day or night.
Spring 2013 Season subscriptions are available at 215.893.1955 and at paballet.org. Save up to 15% on single ticket prices with a custom subscription. Subscribers enjoy the best seats at the best prices, personalized service, lost ticket insurance, flexible ticket exchanges, a monthly payment plan, discounted parking, and more.
Fred Alger Management is the Presenting Sponsor for Carmina Burana.
Humana Foundation is the Presenting Sponsor for Coppélia.
Pennsylvania Ballet's 2013-2014 Season sponsors include DoubleTree by Hilton Hotel, The Sporting Club at the Bellevue, and US Airways.
Pennsylvania Ballet receives support from the Pennsylvania Council on the Arts – a state agency funded by the Commonwealth of Pennsylvania and the National Endowment for the Arts, a federal agency – and The Philadelphia Cultural Fund.
About Pennsylvania Ballet
Founded in 1963 by Balanchine student and protégée Barbara Weisberger, Pennsylvania Ballet is one of the nation's leading ballet companies. Headquartered in Philadelphia, the Company's annual local season features six programs of classic favorites and new works, including the Philadelphia holiday tradition, George Balanchine's The Nutcracker™. For more information, visit paballet.org or call 215.551.7000.
Online Press Images Library:
The media is invited to download high-resolution photos from the 2013-2014 Season at:
https://www.paballet.org/13-14-press-images
Username: paballet
Password: 12tutu!@
# # #