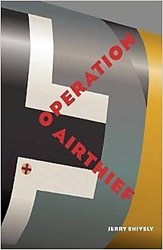 WWII and Aviation buffs take note: this is a novel for you!
(PRWEB) February 17, 2014
In Jerry Shively's title, a British Royal commando and the chief test pilot of the Spitfire meet and hatch a plan to steal a sample plane from a German-held airfield in Cherbourg, France. This audacious and dangerous plan to snatch it right from the jaws of the Luftwaffe is approved by Churchill and the British Combined Chiefs of Staff.
The operation that could change the tide of battle falls to the two men, but their camaraderie is threatened when both unknowingly fall in love with the same woman. What follows is a fascinating story with elements of adventure, fear, romance, and glory. This exciting tale of wartime espionage tells a side of history that we have never heard.
OPERATION AIRTHIEF (ISBN: 978-1-90555-343-3) is now available for $9.99 and can be ordered through the publisher's website:
http://www.dolmanscott.com/operation-airthief or at www(dot)amazon(dot)com or www(dot)barnesandnoble(dot)com.
About the Author: Jerry Shively is a graduate of Deerfield Academy, Colgate University, and
Harvard Business School. His career was spent with S.C. Johnson Inc. and McCann Erickson Advertising primarily in England, where he met one of the heroes of his novel Operation Airthief. His interests and hobbies include vintage cars, scuba diving, flying, shooting, and under the guidance of his designer wife, restoring buildings. They currently live in an old barn in rural France, with their happiness assured by the unlimited supply of local wine.
Author Marketing Ideas (AMI)
http://www.AuthorMarketingIdeas.com
http://www.PublishOnDemandGlobal.com
http://www.StrategicBookClub.com