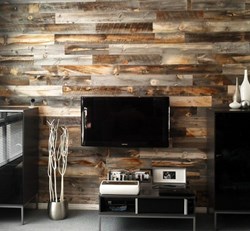 Sacramento, CA (PRWEB) February 20, 2014
Stikwood products are now being featured and sold on Fancy, where users can 'Fancy it' to their profile boards and build their ideal outfit, dream living room, or future vacation to the Bahamas.
The New York-based company has a new take on pinterest-inspired boards.
Appealing to all things savvy, from clothing to gadgets; Fancy has the ability to make your dream world, a reality.
"Fancy what you find, buy what you fancy." The slogan explains the simplicity of the website, allowing users to catalog their favorite items and purchase them all in one place. Users can also earn credit on their account for every friend they refer.
Stikwood products are sourced and made in the U.S.A. It is 100% natural wood, without the density and weight of typical solid wood planks. Stikwood has been featured in television shows such as House Beautiful, HGTV Remodels and highlighted in magazines such as Country Living Magazine. It is ideal for anyone looking to transform any space from walls to ceilings. In addition, it is completely versatile in choice and in application, giving every home with Stikwood a genuine appeal.
Create a new board and start envisioning your living space with Stikwood!