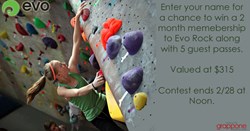 Concord, NH (PRWEB) February 15, 2014
Grappone Automotive Group is giving away a two-month gym membership to Evo Rock, Concord, NH's newest indoor rock climbing facility. Along with the two-month membership, the winner will also receive five guest passes so they can bring their family or friends along. This prize is valued at $315.
In order to enter the contest, entrants must Like Grappone Automotive Group's Facebook page as well as Evo Rock's Facebook page. After doing so they can then enter their name and email address into the drawing using this link: http://woobox.com/jtm2fw. For every friend the entrant refers to the contest they will receive a bonus entry. The contest began on Friday, February 14 at 12:00 p.m. EST and ends on Friday, February 28 at noon EST.
The guest passes include introduction to rock climbing classes, rental and a day pass. This contest is only available to new members. For the entrants that do not win they can save 10% off an Intro to Climbing Membership.
Grappone Automotive Group believes in building lifelong relationships with their team members, guests and community. Grappone uses their digital reach to partner with and help promote local businesses.
Evolution Rock, also known as Evo Rock, is a rock climbing gym in Concord, NH. This gym opened in 2012 and is a great place to meet new friends, become fit and build trust in current relationships. Evolution Rock is the largest indoor rock climbing gym north of Massachusetts at 16,000 square feet.
Evo Rock's gym also offers Zumba, aerial yoga and yoga classes. Members can work out on their own on the rock climbing walls or with the cardio and weight lifting equipment which are located on the second level.
Founded in 1924, the Grappone Automotive Group is family owned and operated and is now in its fourth generation of ownership. Grappone provides a negotiation free sales process with low upfront pricing. Their cars and trucks are individually priced based on equipment, availability, demand and how long they have had them. For more information please visit http://www.grappone.com.