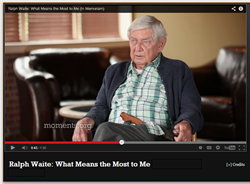 Even today, Ralph continues to impact a new generation of viewers.
Indian Land, SC (PRWEB) February 14, 2014
"There are very few actors in television history who have created compelling characters with lasting true impact. Ralph Waite is numbered among them. He had that extra dimension of honesty and transparency. He was real and audiences could relate to him. His poignant roles still resonate with people of every age and culture. In particular, his most famous role (as the wise and loving husband and father on The Waltons) has left an indelible mark on the hearts and minds of millions in America and throughout the world. Even today, Ralph continues to impact a new generation of viewers. He'll always be remembered for his kindness, both on and off the set. We, along with all who ever watched him, will miss him greatly and are saddened by his passing."
David Cerullo
CEO, INSP
We at INSP were privileged not just to showcase his talent on "The Waltons" but also to know Ralph personally and to work with him during his last year. It was an unforgettable experience. His heart came through not just in his acting but also in his life. We are proud to be able to share one of the last interviews with Ralph Waite. It may be viewed here: "What Means the Most to Me."
In addition, INSP will feature A TRIBUTE TO RALPH WAITE this Sunday, February 16, 2014 beginning at 6pm.