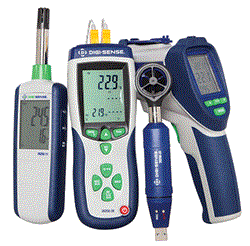 (PRWEB) February 17, 2014
Cole-Parmer introduces a comprehensive new line of test and measurement products to fill the technician's toolbelt. The Digi-Sense™ brand offers new technologies that deliver accurate readings while withstanding rigorous use. From environmental testing meters to performance monitoring equipment, many of the items are precalibrated to save time, cost, and effort. With products individually calibrated before shipment, the measurements provide an unrivaled level of confidence.
The Digi-Sense brand currently includes 25 models of thermometers, infrared devices, humidity meters, anemometers, light meters, and manometers. Additional products that fill other measurement needs will soon be available. Digi-Sense also features a comprehensive line of temperature probes with customization available for unique applications.
The new suite of products is designed to meet the ongoing needs of technicians. View the Digi-Sense products at ColeParmer.com/20813 or, for more information, call 800-323-4340.
Cole-Parmer has been a leading global source of laboratory and industrial fluid handling products, instrumentation, equipment, and supplies since 1955. Our product lines, including popular brand names such as Masterflex®, Oakton®, Digi-Sense™, and more, are sold through company-owned customer channel outlets and a strong network of international dealers. We also feature an ISO17025-accredited metrology lab for instrument calibration and repair. Cole-Parmer responds with excellence to customer needs, and offers application expertise and technical support. For more information, contact Cole-Parmer, 625 East Bunker Court, Vernon Hills, IL 60061. In the US, call 800-323-4340. International customers, call 847-549-7600. Visit us at http://www.coleparmer.com.